Reading Bandwidth Graphs In Manage
Reading Time: 2 minutes
Have you ever wanted to check up on the details of your server's bandwidth usage? Liquid Web's manage interface provides graphs that give you such information. Here's how to read them.
To see the bandwidth graphs for a server in manage, simply click the plus sign by the specific server. The server dashboard will expand, and the bandwidth graph will be in the upper right-hand corner.
The vertical axis of the graph shows the bandwidth used in megabytes. The horizontal axis shows progression over time in weeks. The blue on the graph shows bandwidth coming into the server, and the green shows the bandwidth being sent out by the server.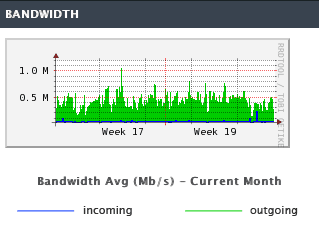 If you have not moused over the graph, you might not have noticed that if you click on it, it expands to show more detail over a longer period of time.
Interpreting the Data
Bandwidth graphs can be used to give you a general idea of traffic patterns and the amount of data you are distributing, as well as alert you to any sudden spikes or troughs in usage. In fact, our Sonar Monitoring™ Team watches this data as part of their work keeping your services up and available. If you see something unexpected in the bandwidth graphs and do not know what caused it, feel free to contact Liquid Web's Heroic Support™. The team can help sift through server logs and other indicators to see just what is going on with your server.
===
Liquid Web's Heroic Support is always available to assist customers with this or any other issue. If you need our assistance please contact us:
Toll Free 1.800.580.4985
International 517.322.0434
support@liquidweb.com
https://manage.liquidweb.com/
About the Author: Patrick Hawkins
Patrick Hawkins is a former Test Engineer and Managed WordPress admin with Liquid Web
Have Some Questions?
Our Sales and Support teams are available 24 hours by phone or e-mail to assist.
1.800.580.4985
1.517.322.0434
Want More Great Content Sent to Your Inbox?