Troubleshooting email in WHM
Reading Time: 2 minutes
In this article we will go over the process used to investigate Email delivery issues on a WHM server. This can be helpful when a user is having issues receiving or sending Emails. The Mail Troubleshooter tool provided in WHM works by tracing the route an Email would take when sent to the provided Email address.
With WHM opened in your browser, (a) type 'Mail Troubleshooter' into the search box. This will sort the menu options for you, (b) now find and click "Mail Troubleshooter".

Now on the Mail Troubleshooter page, you should see a text box labeled as "Email to trace". Enter the Email address you wish to trace here.

Once you click Submit, you will be on the results page.

The example above shows a working configuration for a Gmail based email address. If the results show no errors the issue is likely related to improper Email client settings.
Below you will find an example of results showing errors, the issue here is that the domain has DNS problems and is not able to be resolved.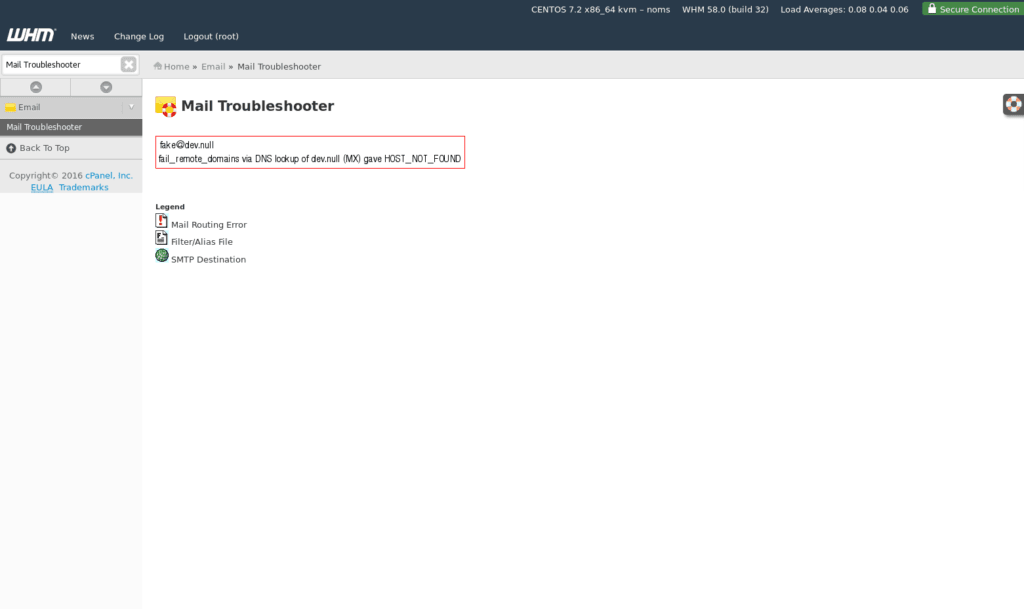 About the Author: David Singer
I am a g33k, Linux blogger, developer, student, and former Tech Writer for Liquidweb.com. My passion for all things tech drives my hunt for all the coolz. I often need a vacation after I get back from vacation....
Have Some Questions?
Our Sales and Support teams are available 24 hours by phone or e-mail to assist.
1.800.580.4985
1.517.322.0434
Want More Great Content Sent to Your Inbox?