How to Upgrade Your WordPress Site
Reading Time: 3 minutes
WordPress 3.0 was released this week, and just like with any new release there are a lot of questions about upgrading existing WordPress sites. In this tutorial we will demonstrate how to upgrade WordPress using the built-in upgrading tools.
Important Note:
You should ALWAYS make a backup of your website before making any large changes, especially when changing software versions. You can
make a backup through cPanel
. The most important part of your backup will likely be your database where all of your posts and post data are stored.
WordPress releases regular updates to improve the software, fix bugs, and improve security. Thankfully WordPress is one of the easiest systems to upgrade.
Log in to your WordPress administration interface. If there is an update available you will see the following banner notification near the top of the page, as pictured below:

Click on the Please update now link and you will be taken to the internal Upgrade WordPress page, pictured below:

Note: If you see a page that asks you for FTP information to perform the update, then your server is running the software in a way that WordPress needs FTP access to complete the upgrade. If your server is using cPanel you will need to use the same user and password details that you used to log in to your domain level cPanel interface. If you have any questions regarding WordPress upgrades via FTP please contact our support department or review the documentation at the WordPress Codex.
If you are not asked for FTP information then click on the Upgrade Automatically button:

If everything goes well you will see several messages as WordPress downloads the update, unpacks it on the server, and then activates it. A final WordPress upgraded successfully message (pictured below) indicates that the upgrade is complete.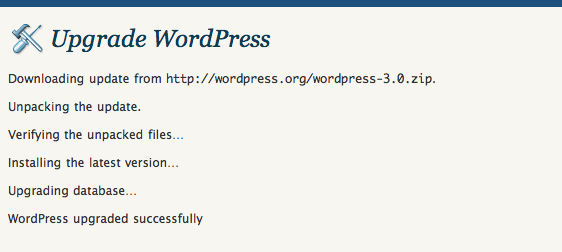 Congratulations! You have now safely upgraded your WordPress site. Open a few pages on your site and make sure you do not see any errors. If you do see any issues, give us a call or open a ticket, and we will get this addressed for you. If we can't get it fixed quickly we can help restore the backup you made before you started the upgrade and then help you through the process one step at a time.
Enjoy your new WordPress update!
About the Author: J. Mays
As a previous contributor, JMays shares his insight with our Knowledge Base center. In our Knowledge Base, you'll be able to find how-to articles on Ubuntu, CentOS, Fedora and much more!
Have Some Questions?
Our Sales and Support teams are available 24 hours by phone or e-mail to assist.
1.800.580.4985
1.517.322.0434
Want More Great Content Sent to Your Inbox?