Customize the WooCommerce Thank You page
Reading Time: < 1 minute
Have you ever wanted to provide product specific information right after a customer checks out? Or, what about customizing the title of the thank you page? Well we've thought about that too. So we built a plugin that allows you to set a global and product specific thank you pages.
How does it work? I'm glad you asked!
How can I set a custom 'Thank You' page to display after a product has been purchased?
First, if you are using Liquid Web's Managed WooCommerce Hosting, it's already baked in. Just activate the plugin and you are ready to go.
Global Thank You Page
Create your thank you page, just like you create any other page on your site. And when you are ready to set the page, just navigate to WooCommerce > Checkout > Checkout options and scroll down till you see "Thank you page redirect" and add the page you want.
Specific Product Thank You Page
You've already created your thank you page and now you just need to add it to your product.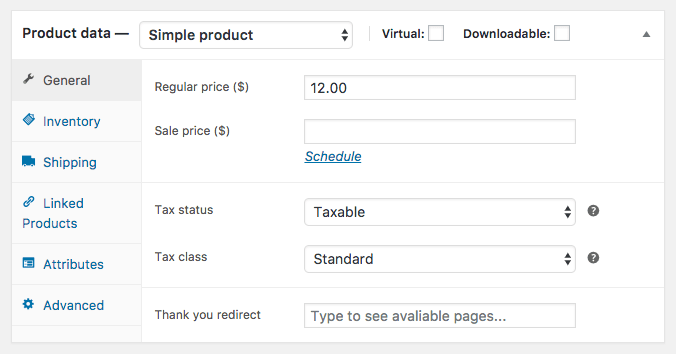 Edit the product you want and in the product data meta box (shown above), you'll see at the bottom of the General tab, there's an option called Thank you redirect. Just start typing your page name and you'll see it appear. Save/Update your product and your thank you page will now work.
About the Author: Dan Pock
Dan Pock does technical support at Liquid Web with a background in System Administration, Public Relations, and Customer Service. His favorite things include his cats, Oscar Boots, and Dash Nougat; experimenting with PHP; and making up recipes (or at least attempting to). You can find his coding hijinks on GitHub, where he shares most of his projects and open source work.
Have Some Questions?
Our Sales and Support teams are available 24 hours by phone or e-mail to assist.
1.800.580.4985
1.517.322.0434
Want More Great Content Sent to Your Inbox?