Alert Logic Security & Compliance Suite
Threat Detection and Log Manager + Intrusion Detection System
Alert Logic Security & Compliance Suite
Protect your Dedicated server with a fully managed, enterprise-grade security suite. Alert Logic Security & Compliance Suite is a comprehensive, end-to-end security and compliance solution that combines valuable reporting and insights with always-on threat detection, vulnerability scanning, and advanced log management.
Alert Logic Security & Compliance Suite includes real-time reporting, 24/7 incident verification and remediation guidance, and can help your business satisfy security compliance standards such as PCI DSS, HIPAA/HITECH, and GDPR.
Enterprise-grade security monitoring and incident management
Protection against malware, bots, and malicious code
Intrusion Detection
Comprehensive log collection, monitoring, and management
24/7 support by expert security professionals
Helps your business ensure compliance with security standards
Reduce the risks to your business with a comprehensive security suite that includes unlimited vulnerability scanning, spans the entire attack surface and operates at scale.
Get insight into the threats your infrastructure faces through automated log management and detailed reporting based on industry data and expert analysis.
Compliance Best Practices
Get the tools you need to maintain compliance across multiple mandates, including PCI-DSS, HIPAA/HITECH, GDPR, SOX, SOC 2, ISO and NIST.
Alert Logic's Security Operations Center provides 24/7/365 support by expert security professionals for incident verification, remediation guidance, and more.
Alert Logic Security & Compliance Suite
| | |
| --- | --- |
| | Alert Logic Security & Compliance Suite |
Get comprehensive, enterprise-grade security protection and log management for up to 25 Dedicated servers or VMware VMs on your Liquid Web account. Includes Intrusion Detection System virtual appliance and 24-hour Security Operations Center (SOC) support.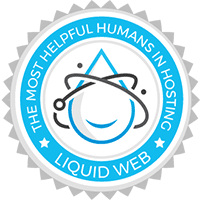 Protecting Your Server 24/7/365
Liquid Web knows that our customers take their web hosting seriously and expect quick, knowledgeable service from a team member that is familiar with their hosting needs.
With Liquid Web, you'll have peace of mind that we're on-site at our data centers 24/7/365, constantly monitoring your server. We're available any time you need us.