cPanel + WHM Services
Bring Premium Control to Hosting with WHM and cPanel
The "Get Things Done" Control Panel
With cPanel + WHM, your server management is easier than ever. All server configurations can be found in WHM and website specific options in cPanel.
Automated SSL installs with AutoSSL using Let's Encrypt™
 Server & Site monitoring with integrated monitoring tools.
 One click CMS installs with Softaculous auto installer.
 Built-in site backup system for easy site-level backup and restores

---

cPanel + WHM Features & Tools
A plethora of productivity tools for Administrators and Developers
CMS-Friendly Control Panel
With the integrated Softaculous auto installer CMS installs are just a click away. With just a few clicks the latest software can be installed and configured with any needed databases. You'll never have to manually create databases again!
Secure Sites By Default
Never go without a site SSL ever again. Using an SSL ensures that your site and users are communicating securely. With the AutoSSL feature you can ensure all your domains are secured with an SSL certificate. Best of all, it only takes a few clicks of a button.
Assisted Site Migrations
Moving websites can be a pain so let us help you do it! Don't let migration headaches keep you tied down. If you're migrating from a cPanel server then we can provide you with assisted site migrations.

Mobile-Friendly Access
Both the WHM & cPanel interface have been designed to allow for a seamless mobile experience. The latest version of the control panel provides a theme built on responsive design. No need for a special phone app here, just load up your browser and it works!
Designed for Simplicity, Built for security
The WHM + cPanel interfaces are designed to provide users of all backgrounds a simple control panel to manage their servers. Being designed for simplicity doesn't mean cutting corners on security though! Security features like two-factor auth (2FA), AutoSSL, and a built-in firewall help keep things secure.
Automated Site Backup System
The WHM + cPanel backup system allows for backups to be managed from both WHM and cPanel. From WHM a hosting Admin can configure backup schedules and remote backup destinations. Similarly, with WHM site users can create and download backups as needed.
WHM – Hosting Administration Simplified
Using the automated deployment tools within cPanel's Webhost Manager (WHM), administration is minimal, and maintenance is efficient. Security and software are updated automatically by cPanel, allowing the server administrator to only have to create accounts and bill their clients.
Security checks, service restarts, bandwidth statistics and DNS functions are all handled via the web interface with no knowledge of Linux shell commands required. WHM monitors disk space quotas, bandwidth quotas, and processes information to ensure that your services are not abused by customers. Optional proprietary throttling can blunt bandwidth spikes on individual accounts and further prevent system overloads.
Reseller management systems allow for the creation of restricted reseller accounts, allowing the reseller to create/delete their own accounts, one of the many systems employed by cPanel to decrease administrative maintenance requirements and further automate your cPanel-based web server.
cPanel – Reinvent Your Services
Add services and features for your customers, extending their capabilities beyond a standard Linux-based environment, by using cPanel. Enjoy numerous features with a cPanel server, from email and FTP account management to various site-enhancing CGI programs and a fully-featured shopping cart.
All cPanel systems are fully reconfigurable to fit the look and feel your company desires. The skinning process of cPanel is done with simple HTML editing though the program of your choice.
cPanel + WHM Pricing
Name
Total Accounts
Cloud
New Price
Dedicated
New Price
Admin
Up to 5
$25.00
N/A
Pro
Up to 30
$30.00
N/A
Plus
Up to 50
$35.00
N/A
Premier Fixed 100
Up to 100
$47.00
$47.00
Premier Fixed 150
Up to 150
$62.00
$62.00
Premier Fixed 200
Up to 200
$77.00
$77.00
Premier Fixed 250
Up to 250
$92.00
$92.00
Premier Fixed 300
Up to 300
$107.00
$107.00
Premier Fixed 350
Up to 350
$122.00
$122.00
Premier Fixed 400
Up to 400
$137.00
$137.00
Premier Fixed 450
Up to 450
$152.00
$152.00
Premier Fixed 500
Up to 500
$167.00
$167.00
Premier Fixed 600
Up to 600
$197.00
$197.00
Premier Fixed 700
Up to 700
$227.00
$227.00
Premier Fixed 800
Up to 800
$257.00
$257.00
Premier Fixed 900
Up to 900
$287.00
$287.00
Premier Fixed 1000
Up to 1000
$317.00
$317.00
Premier Fixed 1500
Up to 1500
$457.00
$457.00
Contact our team for a quote if more sites are needed.
Dedicated Servers
Your own managed dedicated server, hosted in a Liquid Web Data Center.
VPS Hosting
VPS Hosting powered by SSD built on our cloud platform.
Cloud Dedicated
The power of a dedicated server paired with the flexibility of cloud hosting.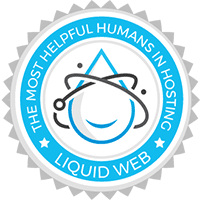 Years of Experience and Expert Support
Not all managed hosting is created equal. Liquid Web has been working with cPanel servers since we started. That's over 15 years of experience support WHM + cPanel servers. You could say we're the cPanel hosting company.
Hosting with Liquid Web means you won't be left hanging to fix things yourself. You can have peace of mind knowing that we're on-site at our data centers 24/7/365. That means we'll always be here to pick up your call, answer your chats, or reply to your emails. No matter who you are or what you're hosting, Liquid Web can get you online.