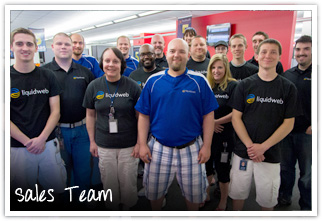 At Liquid Web, we pride ourselves on being there for our customers throughout the life of their business. As your business expands, Liquid Web will be ready to provide assistance on any of your growing web hosting needs. From just getting started, to a Small Business (SMB), all the way to our largest enterprise clusters (Liquid Web's Premier Support Team), Liquid Web's knowledgeable Sales Team can facilitate your company's growth and customize a hosting solution for your needs.
We offer an on-demand and highly scalable infrastructure, designed to support growth by providing a 24/7/365 Heroic Support® Team and 24-hour Proactive Sonar Monitoring® service to ensure your business will be operational at all times.
Not only do we assist businesses at a startup level; we also expend considerable effort to support both small and medium-sized businesses (SMBs) that are already established. SMBs stand to gain significantly by tapping into Liquid Web's SMB solutions. Our Sales Team will work with you to customize one of our fully-featured, scalable, and tailor-made solutions. Our team can provide your business, small or large, with whatever it needs to succeed and grow.
"At Liquid Web we understand your needs as a business owner," Sales Supervisor Stefan Nava said. "We haven't forgotten our roots, and we are here to provide you with the most reliable infrastructure and dependable Heroic Support for any stage of growth. We will take care of you, so you can take care of your business."
Liquid Web SMB Solution Features:
The high-performance hardware that comes with our Enterprise Class Servers protects those businesses with mission-critical systems. When the data and applications hosted with Liquid Web are vital to your business's operations, downtime is no laughing matter. These solutions provide enterprise-class hardware and redundant infrastructure to prevent any single component from causing downtime.
In addition, we offer the ability for Enterprise customers to customize and access their hardware as if they were standing right next to it with support for Power Options with multiple redundancies and Out of Band Server Management with IPMI. We understand that your business demands an experienced and always-available team. We'll make sure your important data is safe with our industry-leading oversight and powerful Enterprise Solutions.
No matter where your business is along this hypothetical journey of growth, Liquid Web will be there 24/7/365. We understand how the smallest details can be exceptionally important to your bottom line. The combination of our around-the-clock Heroic Support® and the relentless dedication to customer care from our Sales Team can help you build a solid foundation to support your business and also grow with you as your business expands. In a marketplace of intense competition, know that you can rely on Liquid Web to have your best interests in mind.
If you'd like to learn more about how Liquid Web can support your business as it grows, Live Chat or call our Sales Team at 1-800-580-4985."