Women In Technology: Mayra Peña
Liquid Web's Communications Manager on staying curious, what motivates her, and how continuous learning keeps her invigorated.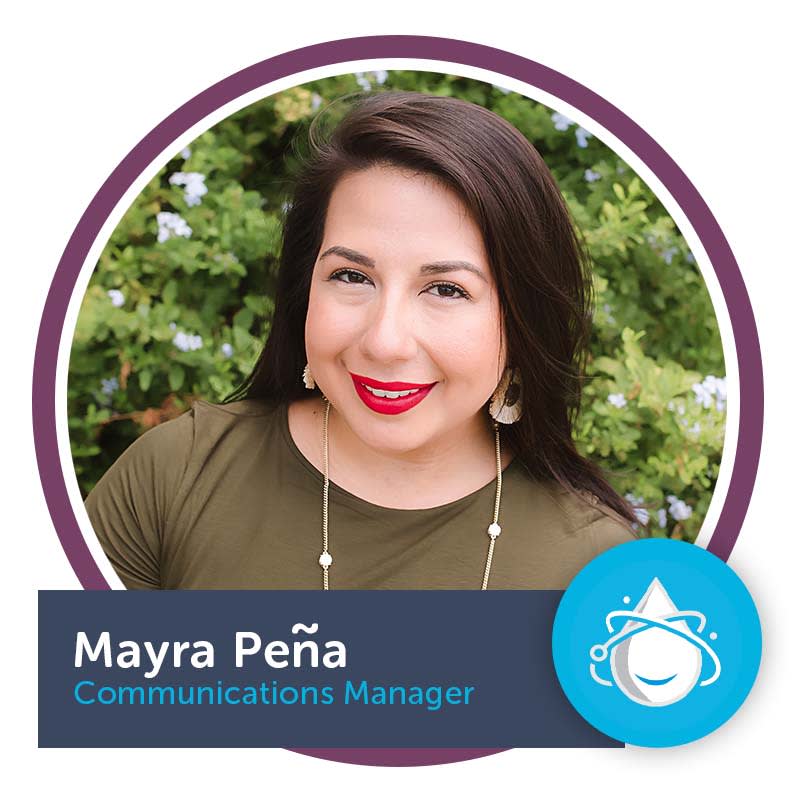 Mayra Peña loves understanding how things work, how things connect, and the role that technology plays in those connections. "It's one of the reasons I love working for a web hosting company," she says.
"It offers me great insight into how the internet can help businesses function online."
The sort of learning and growth that Peña is interested in also requires great resilience.
She takes inspiration from a delightful source, departed 90's pop icon, Aaliyah. "It's one of my favorite quotes by one of my favorite artists from when I was growing up," Peña says of the lyrics to Aaliyah's "Try Again:"
♬ If at first you don't succeed
Then dust yourself off and try again ♬
She thinks back to that time in her life when she reflects on the speed with which technology has progressed in her lifetime.
"I was born in the middle of the movement. I am lucky enough to have experienced the AOL dial-up era, downloading tons of music on Limewire (which took hours!), and learning how to code my MySpace page," says Peña. "That was only about 15 years ago. Now, we have technology that allows us to video chat with people across the world in a matter of seconds.
"For marketers, technology advancements are extremely important because they allow us to better understand content needs for our customers and potential customers." Resources such as Google Analytics and other data marketing analytics software help Peña understand who her audience is, how impactful her content is, and how much engagement the content receives. All of this is possible with technology.
As a college student, Peña began a customer service job with Verizon Wireless and was always intrigued by how quickly the technology was improving. Peña quickly rose in the company's ranks and soon began selling machine-to-machine learning solutions to local governments. "I was so curious about how everything operated. I was fascinated by the amazing technological advancements these solutions could offer our local governments." Her fascination and curiosity eventually led to her web hosting.
Now, as Liquid Web's Communications Manager, Peña's role is all about content and communicating. From press releases to social media, from blog content to case studies, she works alongside her colleagues to create content that enables Liquid Web's customers to build their businesses. "I love creating content that empowers our customers to succeed," she says.
Her vital role at Liquid Web is a reminder that tech isn't just about engineering and coding. She finds working in tech very exciting. "Technology is in everything. Everything," she says. "From the alarm clock on your smartphone waking you up each morning to the dinner recipes we're pulling up on Alexa in the evenings, technology is everywhere throughout our days.
It can surprise you when you take notice of how ever-present it is in our lives."
The greatest motivation for Mayra Peña comes in the form of her son and daughter. "I want them to see what their mom is able to accomplish. I want to set an example for them, to encourage them to be better than me," she says. "It's all about setting my children up for success."
In her work as a mother and in her career, she is keeping a promise to herself— "I promised myself that I would never be the kind of mother who doesn't know how to use technology. I want to learn and I want my children to see that. With self-learning tools and online resources at your fingertips, it is all possible. There is no excuse not to learn and grow."
She encourages young people who are interested in technology to remain curious and be ready to adapt to the field's rapid pace. "Technology is always changing, improving, and challenging us to get more innovative," she says. "If you don't adapt, if you don't learn and grow, you'll be left behind."
For Peña, life is all about learning. From her role as a mother to her time spent helping Liquid Web's customers build their businesses and everything in between, she is dedicated to expanding her knowledge and skill sets in ways that benefit herself and her community. "If you aren't learning and growing, you aren't living; you're dying. To really live fully, we have to continually push ourselves and keep expanding our horizons."
About the Author
Todd Terwillegar
Todd Terwillegar is the Digital Content Marketing Manager at Liquid Web. Todd runs the day-to-day operations for the Liquid Web Blog, helping emerging digital agencies and growing web businesses thrive with the latest content designed to inspire and produce more results. When not at work, Todd loves watching the latest Marvel movie or wrestling on the floor with his kids. You can follow Todd on LinkedIn.
Want more news and updates like this straight to your inbox?
Keep up to date with the latest Hosting news.