What Pandemic-Era Success Can Teach Us About Growing a Business
The COVID-19 pandemic impacted nearly every business in existence during the last few years, but outcomes varied. While it's true some businesses soared, others were left with their engines sputtering, and others still were forced to close their doors for good.
After witnessing this phenomenon play out in real-time, our team at Liquid Web began to wonder, "What separated businesses that failed from businesses that survived or thrived?" 
We thought the question was so important that we launched an in-depth study to answer it. Of the 1,000 owners, partners, and C-level executives we surveyed, 40% said they scaled their businesses within the last 5 years.
It's easy to assume the good fortune of businesses that scaled is directly related to COVID — a hand sanitizer company, for example. But businesses that benefited purely because COVID drove a need for their goods or services only account for 25% of the successful companies we surveyed.
With "COVID-friendly" businesses removed from the equation, what was the X factor for the remaining businesses?
Turns out there wasn't a single factor; there were three: employee attraction and retention, outsourcing, and technology.
40% scaled within 5 years even with COVID
and economic volatility

Hiring takes you higher
Naturally, as the businesses in our study began to scale, they experienced growing pains. And most of the businesses that scaled and managed to grow during the pandemic saw hiring new talent as the most viable remedy.
Our study results show that 52.1% of businesses chose to hire new talent specifically to address learning gaps within their organization during this period — with 41.4% stating that hiring, in general, was key to scaling their business. Another 50.2% chose to go with a mix of hiring and outsourcing to meet additional staffing needs. (More on that later.)
52.1% of businesses hired new talent
to address learning gaps within their organization

Attracting top talent during 
a global skills shortage
Worldwide, businesses have been, and continue to be, up against an unprecedented labor shortage across all industries. According to Korn Ferry, a leading workforce research firm, the current global talent shortage could reach 85 million people by 2030. In IT specifically, the demand for skilled talent is so high that it far outpaces managed service provider growth trends.
Amid this drastic lack of talent, the question becomes, "How do we find and keep quality people?" 
The data from our study shows that businesses are solving this dilemma by focusing on their employees at a personal level and improving their quality of life. Employers are embracing the "work from home" culture brought on by the pandemic to attain and retain top talent. 
Over half (61.2%) of study respondents say they've let at least 50% of their workforce go remote during or following the pandemic. 11.7% of those companies transitioned into a 100% remote structure. Furthermore, 41.24% of tech-related businesses surveyed said they went fully remote.
But managers and C-level executives who want to keep their top people are doing much more than going remote. 
40% of companies in our study have raised employee compensation in the last 5 years. The same percentage (40%) have also improved their employee benefits packages, offering increased mental health and general health resources to keep their people happy.
Two sectors that were most likely to see an increase or improvement in benefits were IT and finance. Here is a brief rundown of how both industries were affected:
Information – Services and Data
68.04% increased employee salaries
55.67% added additional mental health benefits
59.79% improved general health benefits package
72.31% increased employee salaries
50.77% included additional mental health benefits
50.77% improved general health benefits package
61.2% of businesses surveyed let at least 50% of their workforce go remote
11.7% let 100% of their workforce go remote
from the 61.2% above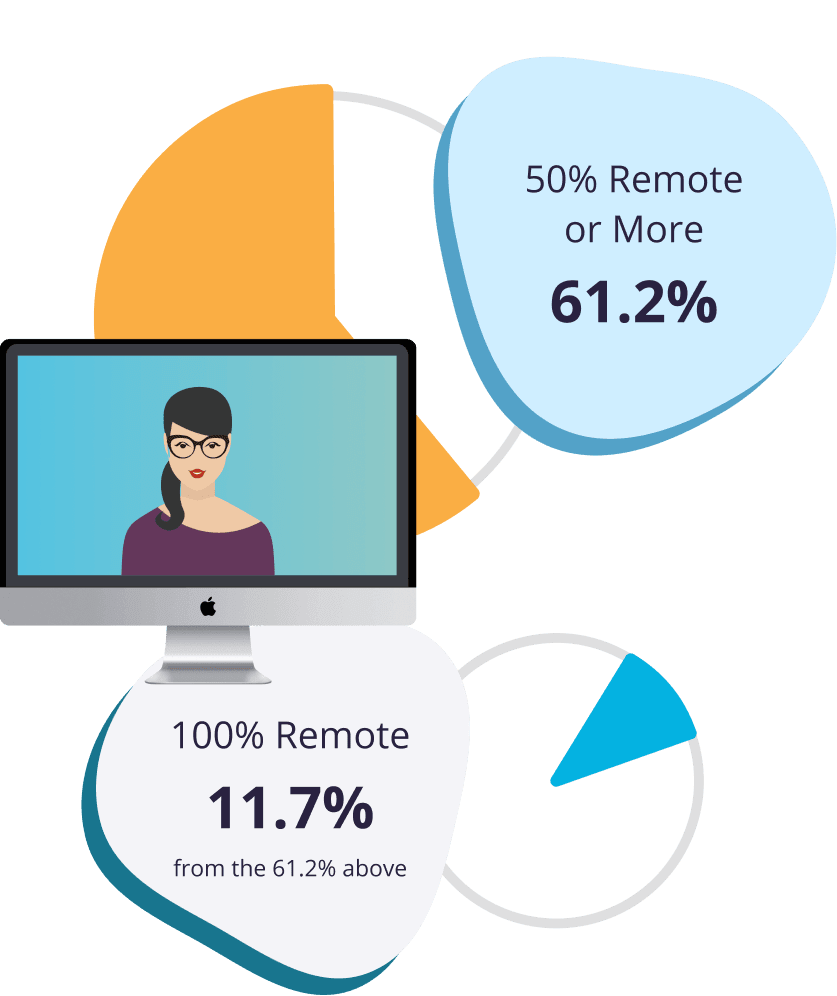 Outsourcing: growth without growing your expenses
Traditional internal hires are just one piece of the puzzle when it comes to bridging learning gaps. Businesses around the globe are also turning to outsourcing to fill highly specialized roles on a project-by-project basis.
We found that the majority of businesses surveyed preferred to outsource talent or rely on a hybrid model of outsourcing and internal hiring. 75% of the predominant industries we surveyed said half of their additional staffing needs were met through outsourcing. When we look at the IT sector by itself, the ratio jumps to 70.1%.
This trend speaks to the highly specialized nature of IT roles. Companies that want to bring on IT admins or system admins are forced to choose from a pool of highly qualified candidates who are versed in in-demand skills, like how to use IT technologies like hosting to grow a business. This specialized knowledge comes at a cost — one reflected in the salary employers need to offer to remain competitive.
Additionally, any candidate brought on may require expensive training on particular software platforms or systems organizations use internally. Since hiring by its very nature is one of the costliest business operations, employers are opting to hire good people on a freelance or contract basis as they see fit.
Outsourcing met the additional staffing needs for 
3 out of 4 of the predominant industries surveyed

It all comes down to IT
Whether businesses chose to hire, outsource, or leverage some combination of the two, we began to see a noticeable trend emerge across the industries we surveyed. IT roles were at the forefront of the skills and roles necessary to help them scale.
During their journey of scaling a business for growth, 79% of businesses hired between 1 and 15 additional employees in the last 5 years to help get the job done. Of these teams, 72% said the roles they brought on were IT-related. In fact, 40.6% of these companies say half of the roles they filled were some form of IT position.
Organizations that chose to outsource weren't much different. Companies that scaled their business using outsourced IT services saw a much better ROI. These businesses could receive first-class IT services at a better price, all while saving them energy and time.
79% of businesses hired 1-15
additional employees in the last 5 years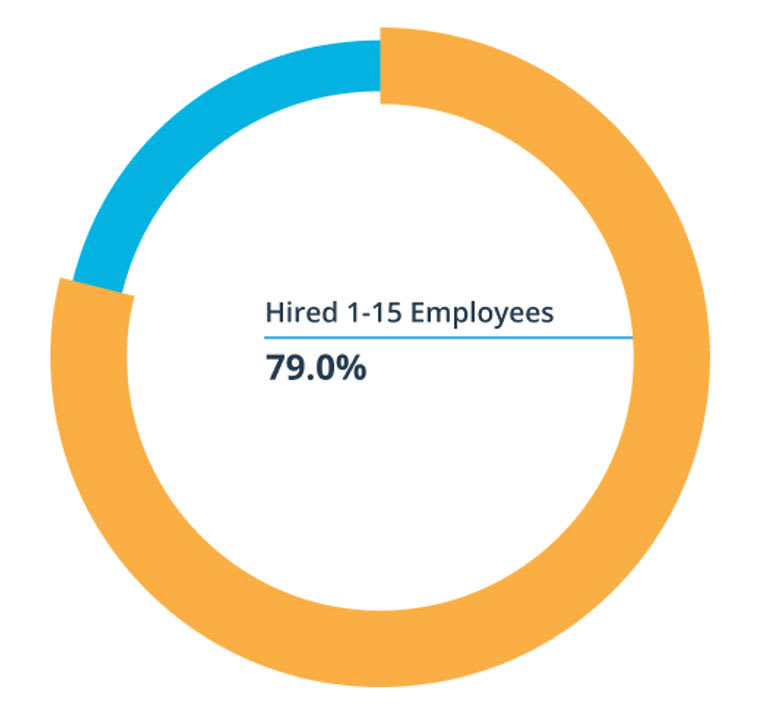 Hiring IT professionals on a freelance or contract basis allowed 36.83% of our respondents to offer more diverse services. Nearly a third (30.53%) of these companies were able to hire workers with the specific credentials necessary to achieve compliance with strict regulations like HIPAA and PCI, and 21.65% were able to tackle IT challenges they wouldn't normally be equipped to handle in-house.
Scaling your business means scaling technology
If we've learned nothing else from our study, it's that scaling a business relies on scaling your technology. Hiring and outsourcing talent can go a long way to get you there but — based on the data we've gathered — without the proper IT framework, your efforts may fall short.
Most businesses in the study — 62%, to be exact — scaled their IT infrastructure to accommodate bigger virtual machines. 
Higher virtual machine density allows these businesses to migrate from an on-premise to a virtual environment, rely less on outdated legacy IT assets, and tackle complex IT challenges like leveraging horizontal vs. vertical scaling for application hosting. 
It also gives business owners across industries less clunky hardware systems to manage. The end result is more power, fewer machines, and fewer headaches for our survey respondents.
Other businesses that participated in the survey scaled their IT assets for more reliability and uptime. 
Cybersecurity needs (25.2%), CRM platforms (26.7%), accounting/bookkeeping (72.37%), and the addition of other general business growth tools were also popular ways business owners used scaled technology resources to support and manage their growth.
62 percent scaled their IT infrastructure
to accommodate bigger virtual machines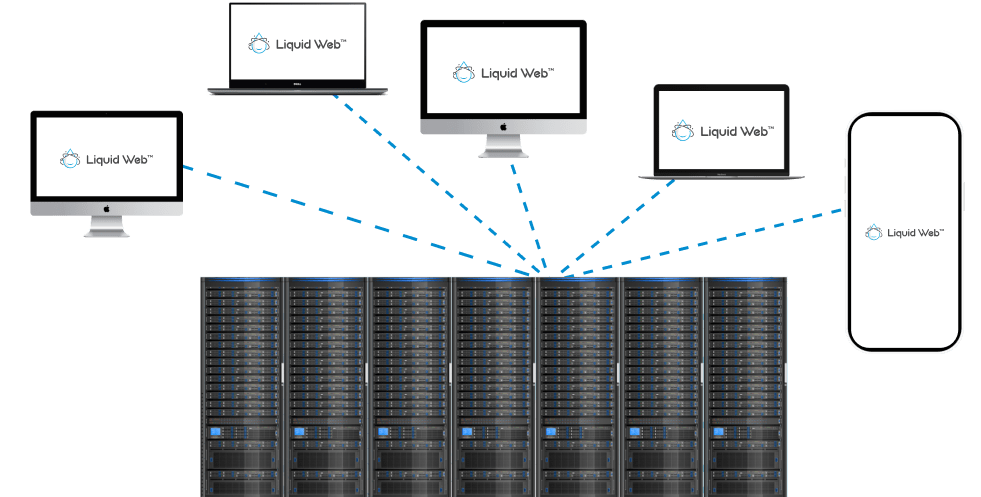 Tough times don't last, tough businesses do
Scaling a business when times are tough is challenging, but we hope our study shows that it's not impossible. By hiring great people and improving their work environment, outsourcing when necessary, and focusing on technology, a business can weather any storm.
There's a saying that goes something like, "Intense pressure is what turns coal into diamonds." The businesses we heard from did exactly that. They took the external pressures of COVD-19, doubled down where necessary, and turned their companies into something remarkable – a diamond of sorts. Through their story, we hope we've given other businesses out there a recipe for success in hard times.

Survey parameters and results
Our survey respondents comprise 1,000 business owners, partners, and C-suite executives who identified as working at businesses ranging from 2 to 5,000 employees that chose to scale within the last 5 years. Below, see the breakdown of this population:
Organization Role

Owner or Partner: 44.3%

C-Level Executive: 31.3%

President/CEO/Chairperson: 16.8%

Chief Technical Officer: 7.8%

Number of Employees

Two to Five: 18.5%

One: 13.9%

Six to ten: 10.4%

>5000: 8.6%

501-1000: 8.2%

51-100: 8.1%

1001-5000: 7.6%

251-500: 6.9%

11-25: 6.1%

101-250: 5.5%

26-50: 4.6%
Industry

Healthcare and Social Assistance: 11.4%

Information: 9.7%

Arts, Entertainment, Recreation: 7.5%

Agriculture, Forestry, Fishing or

Hunting: 7.1%

Retail: 7%

Construction: 6.7%

Finance and Insurance: 6.5%

Education: 5.8%

Professional Services: 3.6%

Manufacturing: 3.3%

Broadcasting 2.8%

Marketing & Sales: 2.1%

Software: 2.1%

Real Estate, Rental, Leasing: 1.6%

Fashion/Apparel: 1.4%

Government & Public

Administration: 1.3%

Hotel & Food Services: 1.2%

Automotive: 1.1%

Consulting: 1.1%

Human Resources: 1.1%

Legal Services 1.1%

Energy, Utilities, Oil/Gas: 1%

Wholesale: 0.7%

Transportation/Warehousing: 0.6%

Market Research: 0.5%

Publishing: 0.5%

Security: 0.5%

Shipping/Distribution: 0.5%

Scientific or Technical Services: 0.4%

Telecommunications: 0.3%

Advertising: 0.2%

Religious: 0.2%

Other: 9.1%