Women in Technology: Sarah Ulmer
Liquid Web's Support Supervisor on her farm upbringing, learning to adapt, and what keeps her motivated.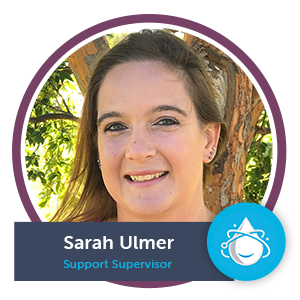 Sarah Ulmer will always be a Texan. Though she was born in Portland, Oregon, and now lives in Oklahoma, she grew up on her grandfather's ranch in the small town of Jefferson, Texas. It was a childhood filled with chickens and horses, fresh watermelon and corn. When she wasn't playing the clarinet or running track, Ulmer spent time with her sister playing outside or riding horses. "It was a great way to grow up," she says. "One of these days, I hope to own a piece of property like that where my kids can spend their days playing like my sister and I used to."
For the past six years, Ulmer has brought the sense of adventure and necessary work ethic of growing up on a farm to her work in tech. "When I first started with iThemes in 2015, I barely knew what WordPress was," she says. "I worked with the marketing department and quickly learned about WordPress, plugins, and so much more. I was moved to Sales Support the next year."
Now, Ulmer works as Liquid Web's Support Supervisor, assisting the Support Team in their day-to-day operations, including support tickets, documentation, testing, and training. "I am also responsible for assisting customers with their account services needs," Ulmer says. "I help people with their purchases, accounts, pre-sales questions, sales and promotions, upgrades, and questions about their plans. I love helping customers decide what packages they need, fix account issues, and turn cancellations into renewals."
The constant change of working in tech is an aspect of the job Ulmer loves. "This isn't something that comes easy for me," she says, "so it's made me a better person. You have to learn to adapt—and adapt quickly—because technology changes so frequently. You have to keep up."
Ulmer says the two most influential people in her career journey have been her parents. "They were such hard workers, and I learned that having a good work ethic is more than just showing up on time. You put 100 percent in at all times. They always told me I could do anything. And I believed them. I still do. But they made sure I knew that success would come through hard work."
Her drive is evident in her work at Liquid Web, having recently crafted important internal documents about using account and payment systems. "Recently, I was tasked with creating onboarding templates for new and cross-training employees. These are detailed lists of items that a new or cross-training employee would need to learn before they can take their own tickets," she says. "A template was created for each of our products so that it's geared specifically toward those items. And rather than having new employees 'sink or swim', they take time learning the new skills."
It's love for her team, her customers, and her kids that keep Ulmer focused day in and day out. "I think there are a couple of things that motivate me, number one being the team I work with at Liquid Web. They're a fantastic group of people, and they motivate me to be the best I can be. Our customers also motivate me. I want them to have a good experience from purchase, installation, and licensing, all the way to support. And everything in between. My third and most important motivation is my three kids."
When she's not at work, Ulmer enjoys spending time with her children and watching NFL games. "In the fall, I love spending time in the backyard watching the kids play soccer and run around having fun."
Ulmer has sage advice for women considering a career in tech. "Don't feel intimidated. If you're interested in something, go for it. If you don't know anything about it, learn. Don't let anything stop you. If one door closes, open another one. Hell, kick it down. Make your own path and do what you want to do." She is confident that the environment for women in tech will only continue to improve. "The future is bright for women in tech," says Ulmer. "There are so many more doors open now than there used to be. And I think more will continue to open. There isn't anything we can't do."
About the Author
Jackie Cowan
Jackie Cowan is the Communications Manager for Liquid Web. She received her MS in Communications from the Ithaca College, MLIS in Library and Information Science from the University of Pittsburgh, and BBA in Management Information Systems from the University of Michigan. She has 10 years of experience with technical and billing support, search engine optimization, and spearheading projects to enhance company culture.
Want more news and updates like this straight to your inbox?
Keep up to date with the latest Hosting news.