Women in Technology: Blair Page
Liquid Web's L3 MA Support Tech on resources for women interested in tech and her unlikely entry into the tech world.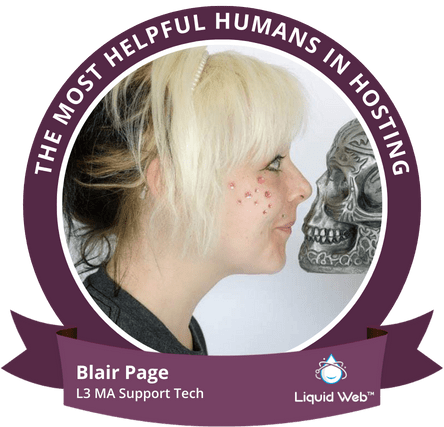 Originally from Michigan, Blair Page began her entry into tech work thanks to her father's dirtbike business. "I specifically selected computer-focused classes in middle and high school, learning alongside the family business as my mother got a business degree. My dad focused on the dirtbike shop, and my mom was learning the business aspects," she says. "I conceptualized the parts catalogs and how that would potentially go into a website before I left high school. I would mess around on hackthissite.com, read many CTRL+ALT+DEL comics, and do small projects and run private Ragnarok Online servers."
Tech remains part of her home life. She enjoys games, technology, and music — in almost any format. "I love cards, board games, video games, and console and desktop games — old and new," she says. Now, Page works as an L3 MA Support Tech, working specifically with Nexcess products. "We have a range of customers from WordPress to Magento, and most of our customers are eCommerce specific," she says. Page says that she loves knowing her knowledge is both useful and growing. "I expect to be surprised," she says. "To beat a hacker, you have to think like one."
Among her proudest accomplishments, Page lists her certifications: RHCSA6, RHCE6, AWS Cloud Practitioner, and AWS Certified Solutions Architect Associate. Some life lessons she lives by are these words from Frank Herbert: "If you believe certain words, you believe their hidden arguments. When you believe something is right or wrong, true or false, you believe the assumptions in the words which express the arguments."
Page points to the many websites women interested in tech might look to for guidance. "Linuxacademy.com, Pluralsight, and many others are great places to learn," she says. "I believe the opportunities for women in tech are becoming more attainable, yet we still have work ahead of us," she says. "The good news is, we're seeing schools such as the University of the People with cheaper alternative tuition options pop up."
Currently pregnant with a girl, Page would encourage young women to enter the tech field by encouraging them to explore their current interests because there are many roads into the tech world. "Everyone's journey is a little different."
About the Author
Rachel Pruitt
Beginning with her work as a writing consultant at Maryville College while pursuing her Bachelor's degree, Rachel's passion for editing and refining written works has been a guiding force throughout her career. Rachel began working for Liquid Web in 2020, and in her current role as a dedicated content specialist and copy editor, she has been an integral part of the content team and is one of the driving forces behind the company's Employee Writing Program. Rachel has contributed to and edited a multitude of articles on a wide range of topics, from web hosting and cybersecurity to company culture and more.
Want more news and updates like this straight to your inbox?
Keep up to date with the latest Hosting news.