Women in Technology: Allison Denbrock
Liquid Web Managed Applications team member, Allison Denbrock, on the dynamic tech landscape, beginning her career, and the power of resilience.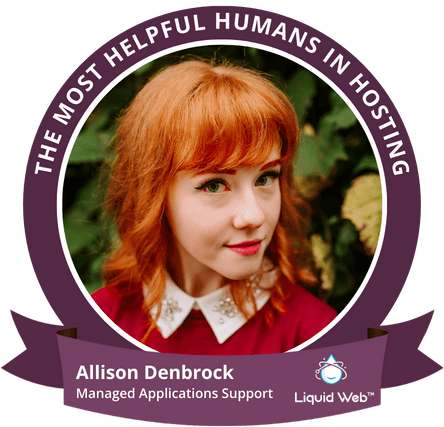 Allison Denbrock comes from a quaint town called Athens in southwest Michigan. Since she was a child, Denbrock has been captivated by technology. "I often found myself tinkering with any gadget I could find," she says, "disassembling them and reassembling them to understand their inner workings." An innate drive to fix things and her desire for self-sufficiency make a career path in tech an obvious choice for Denbrock. "Interestingly, not many in my family share this passion for technology. As a result, I fell into the cliche role many tech enthusiasts do, known as the 'family IT' person," she says. She loves spending time with her cats and little sister, crafting, and grabbing boba tea with her boyfriend, Sam.
Denbrock joined the tech industry just over a year ago. Her entry was the opportunity to attend the Calhoun Area Career Center (CACC). Initially drawn to graphic design, a serendipitous tour of the computer networking class at CACC changed Denbrock's path. "The energy of the students and the kind of work they were doing captivated me instantly," she says.
Liquid Web is Denbrock's first role in tech, and she joined the team shortly after graduating from high school. "The work and camaraderie at Liquid Web have been wonderful and make me feel more comfortable interacting as a team. Anytime there has been an issue I'm stumped on, I know I have a team I can go to for help who often have valuable insights from their own experiences," she says.
At Liquid Web, Denbrock works on the Managed Applications team. Her role as a support technician involves handling a diverse range of tasks. On a typical day, she addresses tickets, often focusing on issues related to SSL certificates, DNS, and email. "What I've found to deeply cherish about working in a technology company is witnessing the tangible impact of my contributions," she says. "Entire businesses rely on the technology we help maintain." While the pace of the tech world demands constant adaptation, Denbrock finds resolving customer issues profoundly rewarding.
Denbrock brings tenacity, openness, and a willingness to learn to her role at Liquid Web. "In a field as dynamic as technology, expecting to know everything instantly is a fallacy. The field is in constant flux, making it challenging to be a complete master. Recognizing this, valuing collaboration, and seeking assistance can be a lifeline," she says.
Though she is just beginning her tech career, there are already achievements Denbrock takes pride in. At the CACC, she not only earned her first certification but did so with a perfect score of 2000/2000, leading her class. She is actively pursuing further certifications to bolster her skills and expertise. She is most proud of landing a role in the tech industry at such a young age, even without any formal college experience. "It's a testament to my passion and the opportunities that lie ahead," she says."
Her CACC instructor, Mr. Fedele, is the most influential figure in her career so far. More than just an educator, he became a mentor and a guiding force in Denbrock's life. "His teachings extended beyond technology and into life's challenges," she says. "He was a beacon of encouragement, urging me to persevere through daunting obstacles. While he celebrated the unique perspective I brought as a female in technology, he also acknowledged the gender disparities that persist in the tech realm. His influence has been instrumental in shaping my work ethic, resilience, and drive. Beyond professional skills, the wisdom and lessons I've garnered from him are treasures I'll cherish and pass on throughout my life."
There are several life lessons Denbrock keeps close at the outset of her journey in tech. These include the importance of resilience, cherishing the present moment, and the power of authenticity. A harrowing moment last December profoundly intensified her drive for life. Denbrock was brutally attacked and faced a life-threatening experience when an individual from her past violently invaded her home. "The mere thought of someone trying to rob me of my envisioned future fuels my passion even more," she says. "Instead of being paralyzed by fear, I've embraced every chance to strive and flourish."
Denbrock believes the future of the tech industry is moving towards greater gender equality and inclusivity. "Diverse teams often drive innovation, and companies are increasingly recognizing the importance of fostering inclusive environments," she says. "Additionally, with a growing emphasis on STEM education for young women, I anticipate a surge of talented female professionals contributing to the world of not just tech but fields like science and engineering too."
As she moves forward in her tech career, she urges women beginning in the field to embrace confidence and to stand firm behind their contributions. "Let's not just break barriers," she says, "but also bridge the gender gap, establishing a formidable presence for women in technology."
About the Author
Rachel Pruitt
Beginning with her work as a writing consultant at Maryville College while pursuing her Bachelor's degree, Rachel's passion for editing and refining written works has been a guiding force throughout her career. Rachel began working for Liquid Web in 2020, and in her current role as a dedicated content specialist and copy editor, she has been an integral part of the content team and is one of the driving forces behind the company's Employee Writing Program. Rachel has contributed to and edited a multitude of articles on a wide range of topics, from web hosting and cybersecurity to company culture and more.
Want more news and updates like this straight to your inbox?
Keep up to date with the latest Hosting news.