Press Release: Liquid Web Acquires Cloud Sites Business Unit from Rackspace
Liquid Web commits to create new innovations for Cloud Sites customers by investing in the platform, its employees and the City of San Antonio
LANSING, Mich.– August 8, 2016 – Liquid Web, LLC, a $90 million web hosting and cloud services provider devoted to delighting customers, today announced it has signed an agreement to purchase Rackspace® (NYSE: RAX) Cloud Sites business unit, which will remain in San Antonio.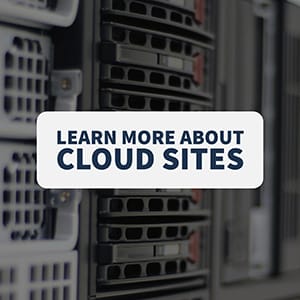 Users of the Cloud Sites platform, who include designers, developers and digital agencies, should expect a seamless transition as Liquid Web and Rackspace work together to complete the transaction. In fact, Liquid Web plans to invest in developing innovative solutions on the Cloud Sites platform to better serve these savvy, skilled professionals who are dependent on a highly available and reliable hosting provider.
With its relentless focus on customer experience, Liquid Web ruthlessly designs its services to work for rapidly growing businesses living, building and creating on the web and in the cloud. Backed by Liquid Web's impeccable customer support, Cloud Sites will provide an all-in-one technology platform designed for high-traffic websites with easy scalability. The Cloud Sites platform-as-a-service (PaaS) product significantly augments Liquid Web's already premium portfolio, and adds capabilities to further simplify web hosting and cloud services. The Cloud Sites platform supports WordPress, Drupal, Joomla, .NET, PHP, and other development and production environments customers desire.
"With the addition of Cloud Sites, we further our mission to empower web professionals all over the world to create content and commerce without worry, free of problems and devoid of even one bit of hesitation by providing absolutely flawless web hosting," said Liquid Web CEO Jim Geiger. "Unfortunately, our industry is trending toward unsupported services, which leaves fast-growing developers, digital agencies and designers alone, without a real person to turn to when they really need help. However, at Liquid Web, day-in and day-out our people stand behind the creators of content and commerce and we're going to continue to stand behind those businesses who rely on the web and cloud. Our job is to delight and every single human being in our company is empowered to do so. Each of them has a relentless devotion to simplifying how our customers experience web hosting and cloud services."
With the acquisition of Cloud Sites, Liquid Web will grow to approximately 550 employees and 30,000 customers globally. The addition of Cloud Sites supports Liquid Web's mission to heroically empower web professionals worldwide. The company plans to invest in the Cloud Sites platform, employees and overall business. Given the clear shift in how customers want to consume web services, for example the mass adoption of easy-to-use, open-source content management systems like WordPress or commerce platforms like Magento, Liquid Web aims to continually improve the usability and reliability of the systems behind those services.
"Our No. 1 priority is making this a seamless transition for everyone involved, most importantly our customers and new team members," said Mr. Geiger. "We are committed to investing and growing the current business with plans to have the Cloud Sites team firmly rooted in San Antonio. Our goal is to be a preferred technology employer in San Antonio, while also being an engaged corporate citizen."
"As Rackspace continues to focus on delivering expertise and Fanatical Support® for the world's leading clouds, and serving more enterprise customers, it made sense for us to sell the Cloud Sites business unit to Liquid Web," said Matt Bradley, vice president, corporate development and strategy, at Rackspace. "Through the transaction, we are also pleased to welcome Liquid Web to the Rackspace Partner Network as an email reseller."
About Liquid Web

Liquid Web delivers reliable, highly-available, secure and hassle-free hosting. The company empowers its employees to go above and beyond to make life easier for professionals who create the content and commerce on the ever-changing web – so they can focus on the work they love. Liquid Web offers a broad portfolio designed so customers can choose their own adventure whether it is hands-on or hands-off or a hybrid of the two. The company owns and manages its own data centers providing a broad portfolio of offerings ranging from bare metal servers and dedicated server hosting to managed WordPress and continues to evolve its service offerings to meet the ever-changing needs of its customers. With over 45,000 customers spanning 150 countries, the company has assembled a world-class team, global data centers and an expert group of 24/7/365 solution engineers. As an industry leader in customer service, the rapidly expanding company has been recognized among INC. Magazine's 5000 Fastest Growing Companies for the last twelve years. Liquid Web is part of the Madison Dearborn Partners family of companies. Madison Dearborn Partners, LLC ("MDP") is a leading private equity investment firm based in Chicago. For more information, please visit Liquid Web, follow us on Twitter @LiquidWeb, or read our blog posts.
Want more news and updates like this straight to your inbox?
Keep up to date with the latest Hosting news.