DDoS Protection for Servers
Protect Your Sites and Servers from DDoS Attacks
Choose your level of DDoS Protection
DDoS Protection for Your Site
In the event of a DDoS attack, Cloudflare®'s vast network acts as a buffer to insulate your site, absorbing the impact and automatically dropping malicious traffic. Cloudflare is easily added to any Liquid Web hosting account to provide optimal DDoS protection. Services can then be configured, managed, and monitored directly from your dashboard. In addition to providing protection from small- and medium-scale Layer 3/4 and Layer 7 attacks, Cloudflare implements a challenge system to help ensure that your site remains available to legitimate traffic — even during an attack.
DDoS Protection for Your Server
Distributed Denial of Service Attacks can have a significant impact on your company. Whether you're a large enterprise, a small business, an eCommerce company or a government institution, if your website is Internet-facing, your servers are a potential target for Distributed Denial of Service attacks. We include free, basic DDoS protection with every Dedicated, VPS, and Cloud server on our network — volumetric attacks from 250 Mbps to 2 Gbps in size are automatically mitigated. For comprehensive protection, we also offer two levels of service to detect and mitigate larger, more sophisticated, and sustained DDoS attacks.
Liquid Web DDoS Hosting Solutions
* Not yet available in Phoenix or Amsterdam
How Our DDoS Attack Prevention Works
Once you sign up for Advanced or Premium DDoS Attack Prevention we begin monitoring all network traffic (not just web traffic, like other providers) to your server(s), at the border layer of our network, in real time. At this safe layer, we use analytics as well as our Threat Detection System to intelligently and proactively identify attacks before they reach any critical layer of your infrastructure. When detected, any malicious traffic is scrubbed and separated from all other traffic prior to being mitigated by countermeasures, tailored specifically to the type of attack we have identified. Our specialized hardware ensures that all legitimate traffic proceeds directly, unimpeded, to your server throughout the duration of the attack.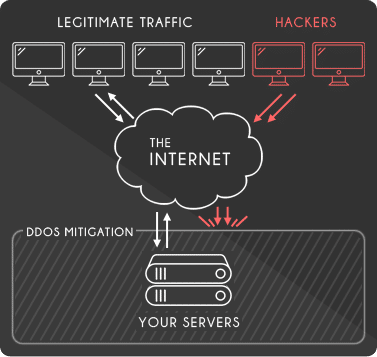 DDoS Protection for Servers FAQ
Why does Liquid Web offer different protection packages?
+
What happens when a DDoS Attack exceeds DDoS mitigation subscription level?
+
What happens if I do not have a Liquid Web DDoS Attack Protection Subscription and I receive an attack?
+
Are there advertising and promotional limitations for Liquid Web clients in regard to DDoS hosting solutions?
+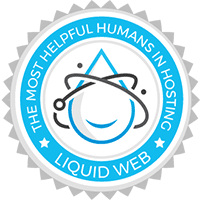 Protecting Your Server 24/7/365
Liquid Web knows that our customers take their web hosting seriously and expect quick, knowledgeable service from a team member that is familiar with their hosting needs.
With Liquid Web, you'll have peace of mind that we're on-site at our data centers 24/7/365, constantly monitoring your server. We're available any time you need us, and guarantee that you'll never have to wait more than 59 seconds for support by phone or Live Chat.