Reading Time: 5 minutes
Originating at Stanford University in 2000, Folding at Home (also known as Folding@Home, FAH, and F@H) is a distributed computing project created for disease research. Computers on various operating systems are networked together, forming a virtual supercomputer to run protein folding simulation work units. Once a work unit is completed, it is uploaded to the FAH server.
What Does Folding at Home Do?
FAH uses compute power to run simulations of protein folding, which essentially takes a chain of amino acids and folds it into a complex shape. The protein's shape helps scientists to understand its properties and how it functions.
Protein misfolds result in serious health issues such as Alzheimer's, Parkinson's, and ALS. Scientists can study these protein folds and misfolds to create drugs, opportunities for developing therapeutics for prominent diseases and illnesses, and possibly find cures.
Current Folding at Home Research
Folding@Home Teams
Thousands of teams and citizen scientists who volunteer are currently folding at home for research. Liquid Web has its own team. Input 227575 into the Team Number field when creating an identity during setup.
Folding at Home Requirements
Because FAH uses available processing power, you will need a reliable computer (desktop or laptop) running Windows, Mac, or Linux operating systems. Make sure to configure your firewall and antivirus software appropriately to avoid interference with the Folding at Home program.
How Does Folding at Home Work?
Follow the process below to become a citizen scientist and FAH.
Step 1. Download and Install the FAH Client
Download the FAH client on your computer and run the installer. For this tutorial, we have downloaded the program on a Windows laptop.
The installer will automatically prompt you to open the program once the installation completes. If you closed the installer, manually open the program. A browser window will pop up at the same time.
Step 2. Open the Program and Create an Identity
When the program is opened for the first time, the screen below will appear. It explains that the program will idle in the background of your computer even if you click out of the browser.
Select whether you want to Fold as Anonymous or Set up an identity.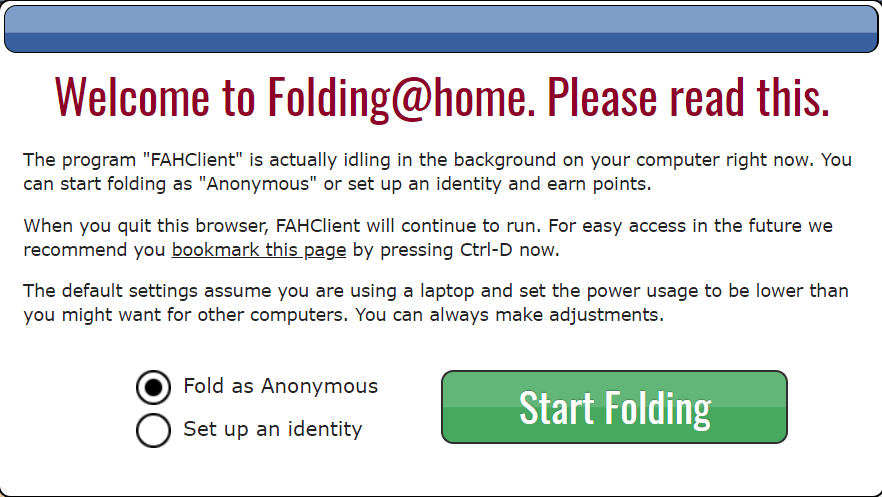 If you choose to stay anonymous, your points for Folding will be attributed as anonymous. If you wish to keep a record of your points from Folding, you will need an identity.
Next, click Start Folding, and the program will immediately begin running.
Note:
If using a laptop, keep it plugged in and charged. The program will automatically pause when the power source is only the battery.
Don't worry if you left your identity anonymous or forgot to join a team. Your identity and team information can always be updated. If you looked through the FAH teams, this is where you would input their team number.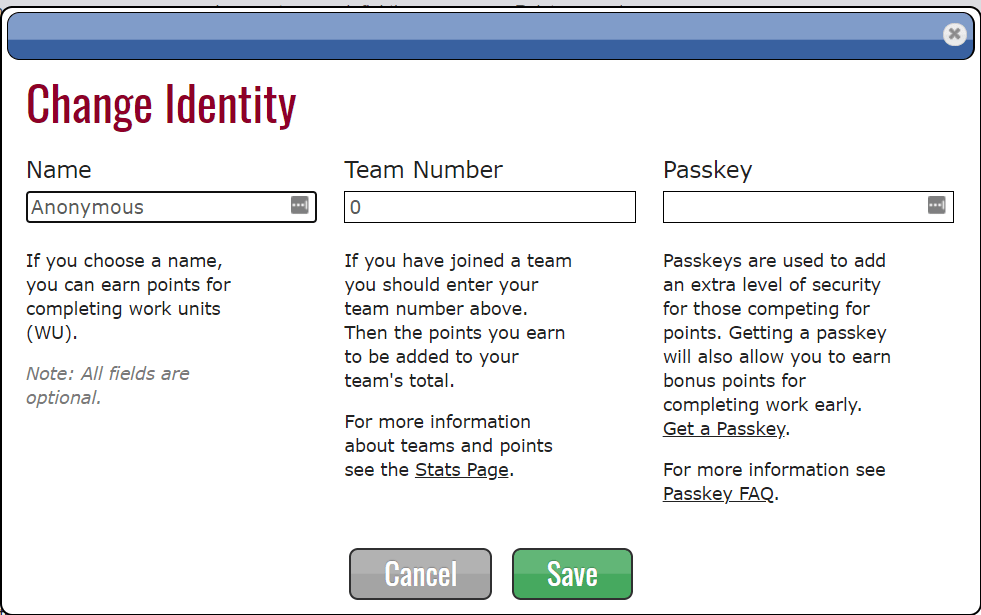 Step 3. Choose Which Disease to Research
Once you establish your identity, look to the I support research fighting dropdown menu. The default option will allow your processing power to help fight against any disease. If you wish for your research to be devoted to a specific disease, you can select from Alzheimer's, Huntington's, Parkinson's, Cancer, diseases that are considered High Priority, and most recently, COVID-19.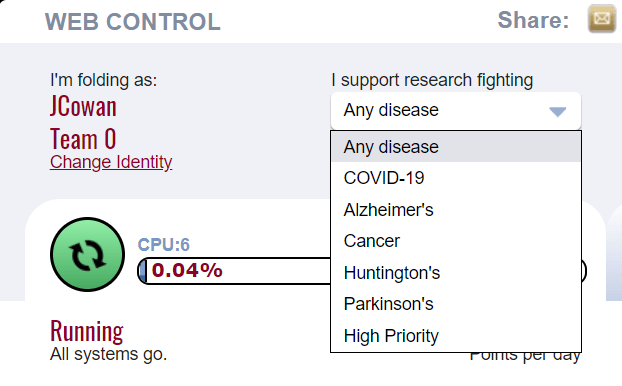 Step 4. Power and Frequency
Depending on the capabilities of your computer, you can set how much power Folding at Home utilizes and when it happens. For example, we set our power usage to light and to occur While I'm working.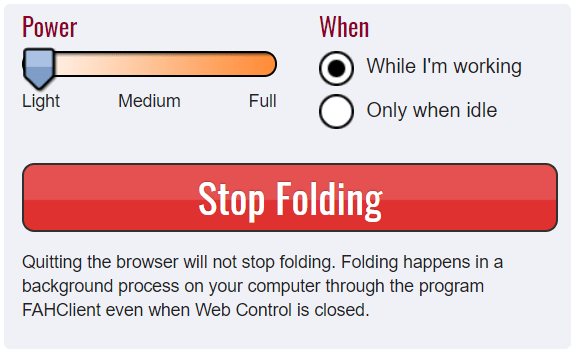 The settings can be changed at any time. In the image below, we changed the program from running While I'm working to Only when idle. The program immediately paused and waited for the new condition to be met.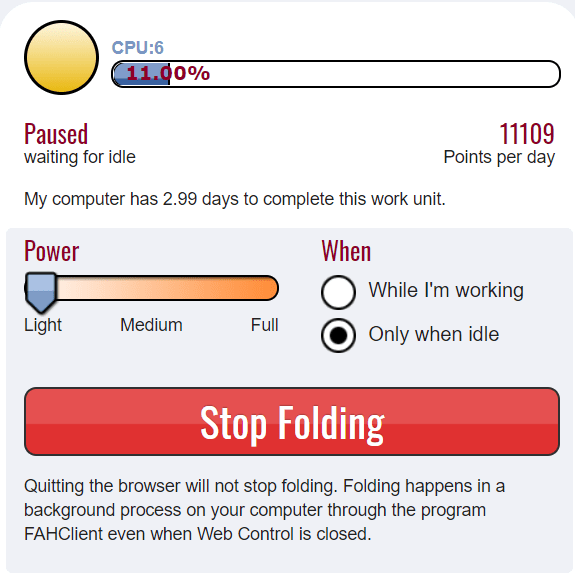 Note:
While you earn points for how quickly you complete a work unit, points have no value in the program.
FoldingCoin
does offer digital tokens to compensate volunteers for their computing power.
Step 5. Stop Folding
There may come a time when you need to stop folding. As the program runs in your computer's background, closing the browser will have no impact, and it will remain active. To stop folding, click Stop Folding.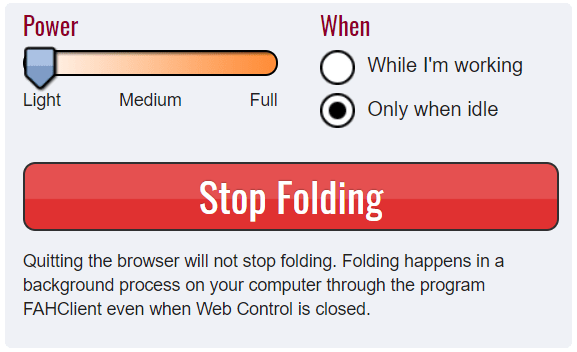 It allows you to stop your folding immediately or after finishing up the current work unit. Only completed work units will earn you points, so any points earned will revert to zero if you stop in the middle of a unit.
Conclusion
There's no better time than now to volunteer to run simulations for disease research! All you have to do is install the program and turn it on; your computer does all the heavy lifting by researching data for you. Scientists can then draw insights from this data to help those in need. Join the Liquid Web Folding at Home team to volunteer and help save some lives today!
About the Author: Jackie Cowan
Jackie Cowan is the Communications Manager for Liquid Web. She received her MS in Communications from the Ithaca College, MLIS in Library and Information Science from the University of Pittsburgh, and BBA in Management Information Systems from the University of Michigan. She has 10 years of experience with technical and billing support, search engine optimization, and spearheading projects to enhance company culture.
Have Some Questions?
Our Sales and Support teams are available 24 hours by phone or e-mail to assist.
1.800.580.4985
1.517.322.0434
Want More Great Content Sent to Your Inbox?