Ubuntu Workspaces: Enabling, Creating, and Switching
Reading Time: 3 minutes
Multi-tasking on your laptop is a necessity. Developers use many applications, but not all need to be in the same view. Thankfully, Ubuntu workspaces solve this problem. If you are having trouble managing Ubuntu workspaces or just want to learn more about them, this guide shows you how to manage desktops and windows in Ubuntu and take your multitasking to the next level.
What Are Ubuntu Workspaces?
Ubuntu workspaces are virtual desktops within the operating system (OS). The first implementation was with Unix as early as 1990. Over the years, it has had many forms before reaching its current style. Windows and macOS took longer to offer a virtual desktop solution.
What Is the Benefit of Using Ubuntu Workspaces?
Sometimes having multiple windows on your desktop can be a pain. That's where workspaces shine, allowing you to manage your windows better, optimize your workflow, and improve productivity.
For example, you could use one workspace for work, another for social media, and the third one for entertainment. In some cases, workspaces can even replace multiple monitors, provided you don't need to use them simultaneously.
Working with Ubuntu Workspaces
To operate numerous workspaces, you must use the Ubuntu workspace switcher. To make it appear, press the Super key. Alternatively, you can click the Activities button in the upper left corner. A portion of it appears on the right-hand side of the screen.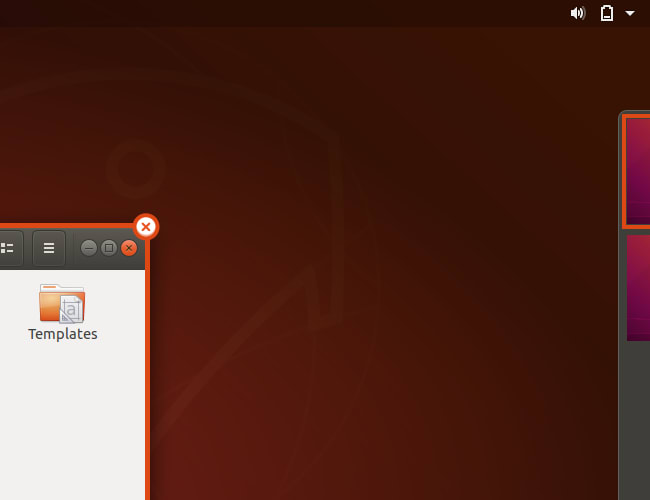 Move the mouse pointer over it to display it in its entirety.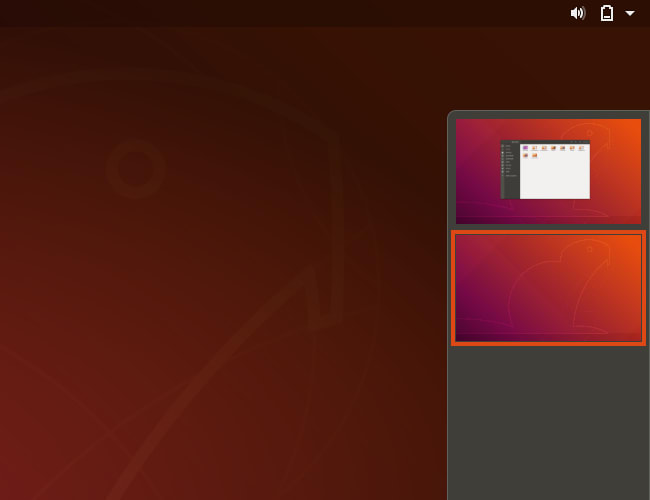 You can now select the second workspace by left-clicking it. The second workspace is now the active one.
Enabling Ubuntu Workspaces
Typically, workspaces are enabled by default. If for some reason they are not, navigate to Settings, then go to the Behavior tab and click the checkbox next to Enable
Creating Ubuntu Workspaces
You aren't limited to just two workspaces. You can add as many as you'd like using the same workspace switcher on the right. Drag and drop a window from an existing Ubuntu workspace onto the empty one below it. As soon as the lowest Ubuntu workspace is occupied, a new empty one will appear under it.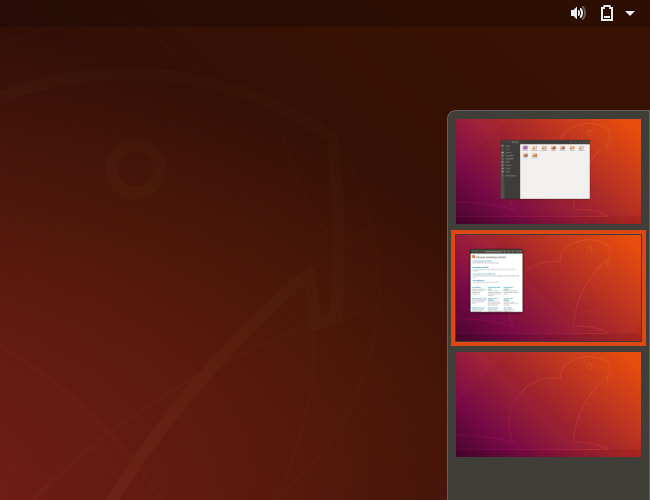 Switching Ubuntu Workspaces
There are two ways to cycle between workspaces. The first displays the workspace switcher by pressing the Super key and then left-clicking the relevant preview screen.
The second is pressing either of the following keyboard shortcuts:
Ctrl+Alt+Up/Down.
Ctrl+Alt+Super+Page Up/Page Down.
As soon as you press the shortcut combination, an alternative workspace selector will appear in the middle of the screen. You can now click on the workspace you need to make it active, as seen below.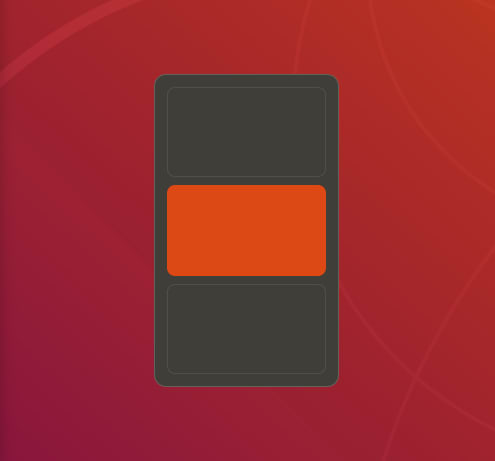 Removing a Workspace
To close a workspace, close all its windows or move them to another workspace. The empty workspace will then disappear automatically. All workspaces disappear except the last one, per the OS design. As mentioned earlier, a minimum of two workspaces are present by default.
Configuring and Using Workspace Shortcuts
Want to improve your workspace skills even further? That's easy. Just learn to use the workspace shortcut keys.
The following table serves as a quick guide for the most important shortcuts.
| | |
| --- | --- |
| SHORTCUT | ACTION |
| Super+Page Up | Switch to a workspace above. |
| Super+Page Down | Switch to a workspace below. |
| Super+Home | Switch to the first workspace. |
| Super+End | Switch to the last workspace. |
| Shift+Super+Page Up | Move a window one workspace up. |
| Shift+Super+Page Down | Move a window one workspace down. |
| Shift+Super+Home | Move a window to the first workspace. |
| Shift+Super+End | Move a window to the last workspace. |
Remember that you aren't limited to the default shortcut key bindings. If you want to change them, navigate to and click Settings, Devices, then Keyboard.
Wrapping Up
This guide covers enabling, creating, and switching Ubuntu workspaces so you can test them yourself. Switching the workspaces, moving windows between them, and configuring shortcuts is a breeze with this powerful tool.
About the Author: Joseph Molloy
Liquid Web Security Operations tech Joseph spends his days cleaning up malware and doing his part to keep the Internet safe. He is interested in all things Linux and always looking for something new to learn. In addition, he enjoys cooking and playing guitar, is an avid horror and sci-fi reader, and is a fan of black metal music.
Have Some Questions?
Our Sales and Support teams are available 24 hours by phone or e-mail to assist.
1.800.580.4985
1.517.322.0434
Want More Great Content Sent to Your Inbox?