How to Use the Mail Queue Manager in WHM
Reading Time: 4 minutes
The Mail Queue Manager feature in WHM allows you to view, delete, and attempt to deliver queued emails that have not yet left the server. It can be a handy tool for diagnosing a variety of issues with mail deliverability, such as spotting signs of a compromised account sending spam from the server.
Accessing Mail Queue Manager in WHM
If you are unfamiliar with how to access WebHost Manager (WHM), you can take a look at our article Getting Started with WHM.
Once logged into WHM, you can navigate to the Mail Queue Manager page by inputting the text "mail queue" into the search box above the left menu, then click the Mail Queue Manager option: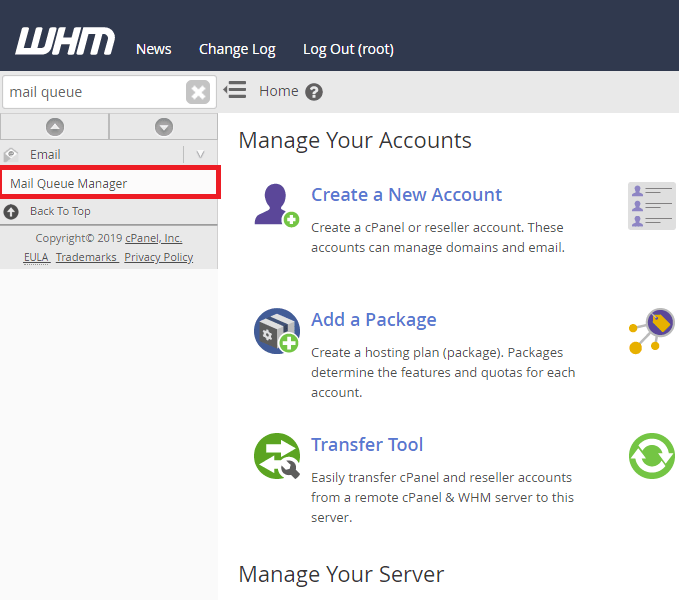 Searching for Queued Emails
From the Mail Queue Manager main page you will see a section for searching through these queued emails. You can input either a Sender, Recipient, or Message ID (a unique identifier the mail server gives each email sent and received) to filter through the queued messages.
Once you input a search for one of these options, select the corresponding option from the Select Query dropdown menu next to the text box: Search Sender, Search Recipient, or Search Message ID.
You can also select No Filter if you do not want to restrict the search to one of these specific options.
The search filter also includes a section to select a particular time frame by entering a Start Date and End Date. This will filter the search results down to emails that fall within this time frame. Please note: WHM only retains this data for 10 days, so email outside of that time frame will not be included in the search results.
Once you've input the text to search, and selected the filter options, click the Run Report button.
Below is an example of a search for all messages in which the sender of the email matches "user@domain.com":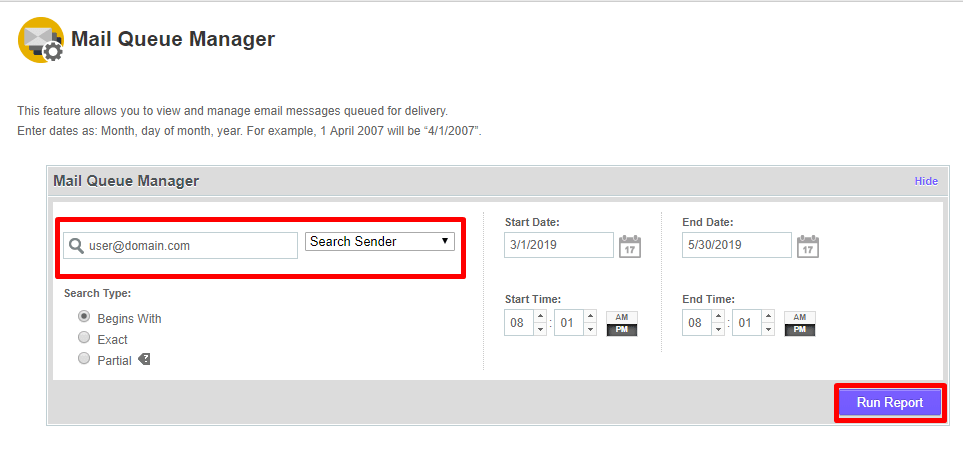 Viewing Queued Emails
To view an email currently in the queue, under the Actions column, click the magnifying glass icon:

This will display the email's simple headers, text content, and provide you with options to delete the email, attempt delivery, download the email in .eml format (which you can open in mail client applications such as Microsoft Outlook), or view the email's extended headers and control data:
Delivering Queued Emails
As shown above, you can view a specific email and click Deliver Message Now to attempt delivery of the message. You can also select messages from the main page of the Mail Queue Manager and click Deliver Selected:

The option Deliver All will attempt to send out all emails currently in the queue.
Deleting Queued Emails
To delete an email currently in the queue, you can view a specific email using the instructions above and then click Delete Message.
Multiple emails can be deleted from the queue using the main page of the Mail Queue Manager. You can either select each email you'd like to remove and then click Delete Selected, or you can remove all queued emails by clicking Delete All.
Unfreezing Frozen Queued Emails
You may see emails listed as Frozen under the Status column. These are emails that failed to deliver after multiple attempts, so in order to help the queue continue to run efficiently, the system will 'freeze' these emails. To unfreeze an email, you can click the second icon under actions:

Once unfrozen, the email will attempt to send during the next queue run. Forcing a delivery attempt of a frozen email will also unfreeze the selected email.
Multiple frozen emails in the queue may indicate an issue that requires further investigation, such as a remote mail server blocking the mail transaction.
For more information on diagnosing email deliverability issues, you can take a look at our article entitled Troubleshooting: RBLs and Email Delivery Problems (Rejected Email Messages).
About the Author: Ryan Smith
Ryan is a former Linux System Administrators at Liquid Web. With over five years of experience in support and over 12 years in customer service, Ryan is a lifelong tech hobbyist. A Lansing native and Lansing Community College grad, he is committed to making a difference both in our community and around the globe as one of The Most Helpful Humans in Hosting,
Have Some Questions?
Our Sales and Support teams are available 24 hours by phone or e-mail to assist.
1.800.580.4985
1.517.322.0434
Want More Great Content Sent to Your Inbox?