How To: Restore a Domain From cPanel Backups
Reading Time: 2 minutes
In this tutorial, we will be reviewing how to restore a domain from cPanel backups. While it is a good and useful thing to have entire server backups enabled, sometimes we only need to restore a single domain. In these situations, cPanel backups make it easy for us to restore a single site from the Web Host Manager (WHM) interface, or from the command line.
Note:
This tutorial assumes that we have already enabled cPanel backups within WHM, and we have a backup to restore from.
Restoring from WHM
First, log into WHM and click on the "Backup Restoration" page.
Note:
Caution should be taken here as this method requires that the entire cPanel account be removed from the server before we restore the backup. If all we need is the restoration of site files, this is NOT the backup type we need to use, as this method will remove all the emails from the server, since the date the backup was made. Liquid Web support can also assist with this task should a user be uncomfortable in trying to use this restore method.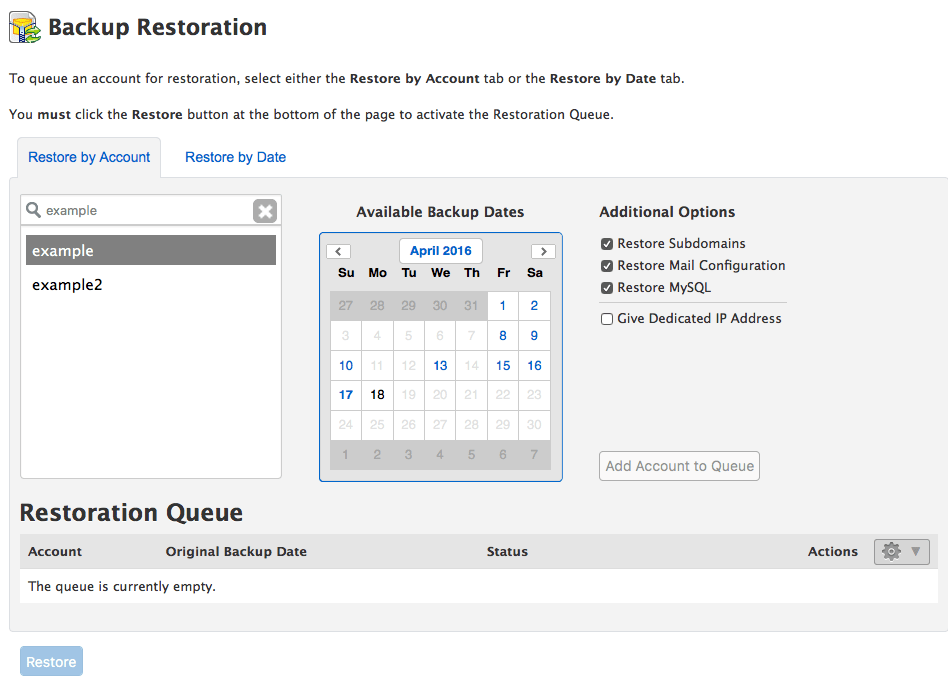 On the Backup Restoration page, click on the account you wish to restore to see the available backups for that account listed in the calendar. Click on the date from which you wish to restore and click the Add Account to Queue button, then finally click the Restore button to begin the restoration process.
Restoring from cPanel
In cPanel, you will find the Backups menu option in the File section. From there you will be able to download or generate the following backups:
a full account backup
a full home directory backup
a MySQL database backup
a backup of e-mail forwarders
a backup of e-mail filters
On that same page, you can upload previously-downloaded backups to restore. The cPanel user can restore all but the full account backup; the root server administrator will need to restore the full account backup through WHM.
For the rest of the options, restoring a backup is as simple as clicking the "Choose File" button under the relevant restore section, choosing the backup from your filesystem, hitting "OK", and then letting cPanel handle the rest. Note that if you have a lot of mail, or a lot of site files, the home directory restore can take some time while all that data uploads.
As always, should you have any questions or concerns about any part of this process, feel free to contact Liquid Web's Heroic Support® for assistance.

About the Author: David Singer
I am a g33k, Linux blogger, developer, student, and former Tech Writer for Liquidweb.com. My passion for all things tech drives my hunt for all the coolz. I often need a vacation after I get back from vacation....
Have Some Questions?
Our Sales and Support teams are available 24 hours by phone or e-mail to assist.
1.800.580.4985
1.517.322.0434
Want More Great Content Sent to Your Inbox?