How To: Register a Domain through Manage
Reading Time: 2 minutes
Before you can host a website on a domain, that domain has to be registered with the proper authorities. Domain registration through Liquid Web is a one-click process in our manage interface, but it may not be immediately obvious just where to do so. Here's how:
Step 1: Search For A Domain
In manage, click Domains on the left-hand sidebar. On the right-hand side you will find Register Domain.

Enter the domain you wish to register. On this page you can even check to see if anyone else owns the domain by clicking on the Check Availability button.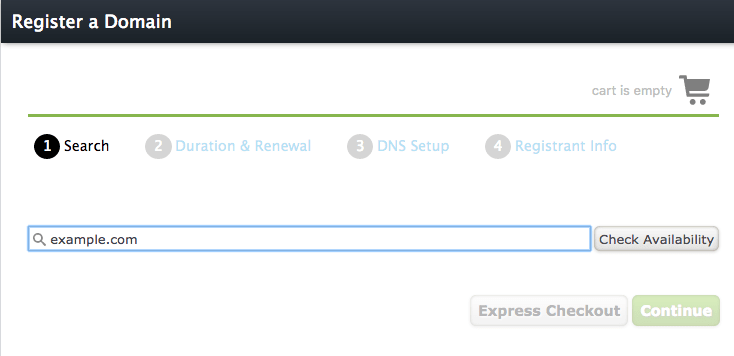 Select the domain you'd like to purchase by clicking Add and then Continue to advance to the next stage of purchasing.
Step 2: Duration & Renewal of Domain
On this screen you'll be able to choose to Auto-Renew or have your domain registration information kept private (WHOIS Privacy Protection). Click Continue to advance to DNS Setup for your domain.

Step 3: DNS Setup
If left blank, by default, our system will set up a zone file for you. Or you have the option of choosing to set up custom nameservers.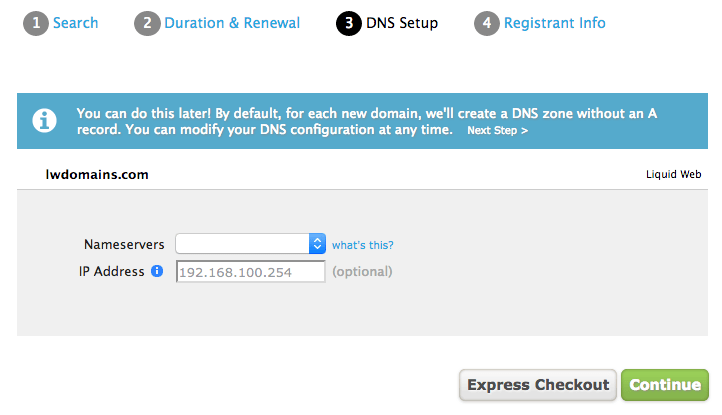 Step 4: Fill Out Registrant Info
Fill out this information for your domain. Be sure to use an e-mail address that is always accessible because ICANN will periodically ask you to verify its validity. Click Continue to review the details of your domain purchase and to complete the domain registration process.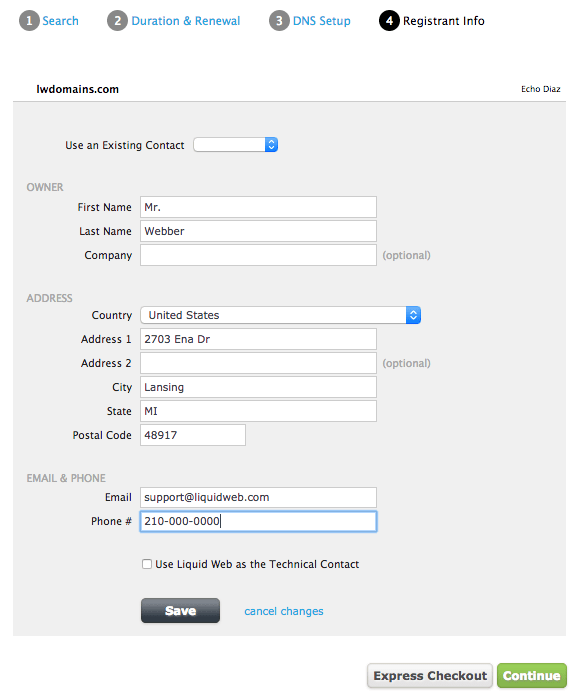 About the Author: Patrick Hawkins
Patrick Hawkins is a former Test Engineer and Managed WordPress admin with Liquid Web
Have Some Questions?
Our Sales and Support teams are available 24 hours by phone or e-mail to assist.
1.800.580.4985
1.517.322.0434
Want More Great Content Sent to Your Inbox?