How to Enable cPanel Backups in WHM
Reading Time: 2 minutes
On a VPS server or Dedicated server, the cPanel control panel does have some built-in functions to assist in creating and managing account backups. These backups are done on an account level basis and only backup accounts created via cPanel.
Below are the steps to enable these backups:
- Log into WHM for your server
- Click on the Backup icon in the main window

- Click on the Configure Backup icon
On this page the frequency that backups run can be configured. For dedicated servers it is recommended to keep all three available intervals. For VPS accounts, it is recommended that the frequency that backups run be limited as not to run out of disk space.
An example of the WHM's "Configure Backups" page: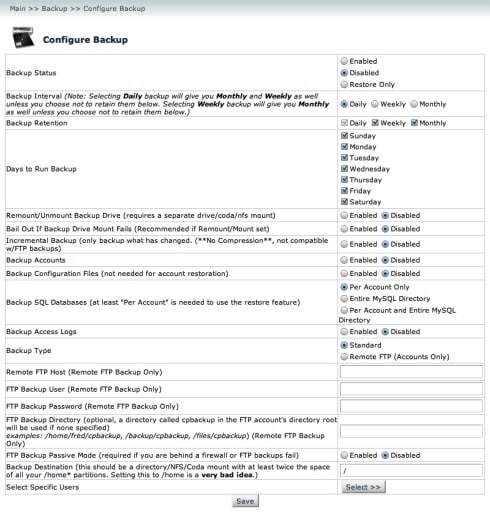 **It is important to note that each time backups run they remove the older instance of that backups' interval. Simply put, if backups are running nightly, every night the prior days backups will be removed after that days backups are created.**
Liquid Web's Heroic Support is always available to assist customers with this or any other issue. If you need our assistance please contact us:
Toll Free 1.800.580.4985
International 517.322.0434
support@liquidweb.com
https://my.liquidweb.com/
About the Author: J. Mays
As a previous contributor, JMays shares his insight with our Knowledge Base center. In our Knowledge Base, you'll be able to find how-to articles on Ubuntu, CentOS, Fedora and much more!
Have Some Questions?
Our Sales and Support teams are available 24 hours by phone or e-mail to assist.
1.800.580.4985
1.517.322.0434
Want More Great Content Sent to Your Inbox?