Adding and Deleting Users in Managed WordPress Portal
Reading Time: 3 minutes
Just as in your WordPress site and your Liquid Web account, you can create users in the Managed WordPress Portal to help you manage all your sites. This person can do most of the same functions as you. They can organize the sites in your portal by tagging and labeling, create stencils of your sites and look at the visual comparison tool and push updates. The only thing a user cannot do is create new users.
Add a User
Note: Adding a user in your Managed WordPress Portal does not add them to your WordPress site administration or your Liquid Web account. If you also want them added to your account, see our article
Creating an Authorized User in Your Account
.
To add a new user, log into your Managed WordPress Portal and select the Users link from the menu on the left-hand side of the page.
From the Users home page click the Create User button in the upper right-hand corner of the page.
Fill out the information and click Create User.
The user will now appear on your Users page.

Warning:

he SFTP/SSH credentials are the same for every user. Please generate a new password each time you log into SFTP or SSH.
The new user will receive an email notifying them that they've been added to your dashboard. They will be provided with the username you chose and a link to create their password.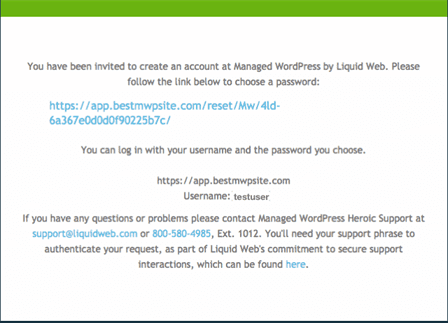 Delete a User
Deleting a user is a quick, two-step process in your dashboard.
Click the trash can icon next to the username you'd like to delete.
Confirm that you want to delete the user in the pop-up.
The user is now deleted and will no longer show in your users list and all credentials will be revoked.
About the Author: Libby White
Former technical writer for Liquid Web. When Libby is not writing for work, she spends time learning more about digital & technical writing, web development, hanging with her family, and taking photographs with her Nikon. Always learning, always growing, never stopping.
Have Some Questions?
Our Sales and Support teams are available 24 hours by phone or e-mail to assist.
1.800.580.4985
1.517.322.0434
Want More Great Content Sent to Your Inbox?