Women in Technology: Yvette Gonzalez
Liquid Web's HR Generalist on confidence, positivity, and making her voice heard.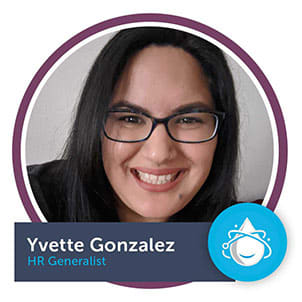 Music has always played a big part in Yvette Gonzalez's life. As a kid growing up in Corpus Christi, Texas, music was an escape, a refuge, a way to give voice to what she was feeling. As an adult, she still turns to music when she wants to find peace or is in need of a boost in courage or determination. "My favorite lyric comes from a song by my friend's band, Adelitas Way," she says. "The words are, 'If you believe in something, it might as well be you.' It's a song that, for me, instills great confidence."
Now, Yvette Gonzalez brings her sense of peace and confidence to Liquid Web as the company's HR Generalist. "The way I define HR is customer service for the employee," says Gonzalez. I am there to be a confidante for our employees. I am there to make sure that employees know that they have a safe space. My first job was in a daycare, where I learned to take care of and meet the needs of children. This has led me to learn compassion and understanding to take care of and meet the needs of adults."
Liquid Web has been Gonzalez's entry into technology, a leap she is glad to have taken. "I was at a point in my life where I was ready to make a change and grow with a company," she says. "I jumped at the opportunity to be a part of a company that was ready to go above and beyond— not only for their customers, but also their employees."
A love of music isn't the only thing Yvette Gonzalez has carried into her career from her youth. She has also maintained an appreciation for friendly competition. "I grew up playing all kinds of sports," she says, "and I still feel that competitive drive in my work environment. I want to be the best HR Generalist I can be!" But alongside competition, Gonzalez loves the camaraderie of Liquid Web, including the relationships at work both with customers and within the company. "I love to work with my team," she says, "Being able to bounce ideas off one another helps me process problems and come up with a solution. I try to project happiness to our employees. I want them to know that I'm there for them."
An unexpected bonus of the job, for Gonzalez, is the tech support. "The thing I love most is knowing I can go to anyone in the company for help with my computer," she laughs. "The world of technology is a new environment for me. I love seeing behind the scenes of what makes a website and company work."
Gonzalez points to strong female mentors as guides for her career. "My first HR manager, Trish Nichols, taught me the compassion that it takes to be in the human resources field. And after joining Liquid Web, my current manager Misty Combs has helped me become more confident in my chosen profession."
But her greatest motivation is her nieces. "I want to show them that women are strong. I want them to know that it's okay to go after what you want." She wants them— and other girls— to know that it's okay to fail. "You grow when you try and fail. This is how we learn." She also says that confidence is key. "Not everyone is going to like you. Keep going. Keep learning."
It is her hope that following her career path in technology will inspire other young women to consider the field. "More and more women are realizing that tech is not just a man's industry," she says. "We are owning our space here. We are finding our voices and making ourselves heard."
About the Author
Mayra Pena
Mayra Pena is the former Communications Manager at Liquid Web and has over 10 years of experience in technology. 
Want more news and updates like this straight to your inbox?
Keep up to date with the latest Hosting news.