Women in Technology: Rebecca Diamond
Liquid Web's WordPress Technician on how the tech field marries her love of creativity and connection.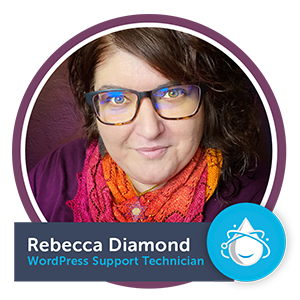 Creativity and introspection have been part of Rebecca Diamond's life since she was very young. Diamond spent her childhood in Louisiana, and moved to Maine just before becoming a teenager. "I've had a non-traditional life," she says, "complete with being homeschooled before all the cool kids were doing it."
In those early years, Diamond developed an intense love of reading—she still reads between 5 and 7 books a week. "On my days off, I love to spend time in my home office, which doubles as my creative space," she says. "There I pop on an audiobook at 1.5 speed and knit, weave, crochet, sew, make jewelry, or work with metal, wood, beads or, well, you get the picture. An ideal day for me involves lots and lots of creativity."
After her first job as a potato harvester in Maine, a love of creative work led Diamond to the tech world. "I first started freelancing using WordPress back in 2005, after building a website for my small photography business and discovering I loved to work with websites," she says. In 2009, Diamond joined a WordPress startup and worked there until 2017, helping people transition from WordPress as blogging software to WordPress as a Content Management System. Afterward, she spent a gap year as a contractor for another company and then came on board SolidWP immediately after the acquisition by Liquid Web.
"Having known the founder of SolidWP since 2008, joining SolidWP and the Liquid Web family was a dream come true," Diamond says. "I'm neurodivergent and have disabilities, and I've been fortunate to work in places where those needs were accommodated matter-of-factly. That means I've always done a bit of everything, often far outside my initial job scope, at each tech job I've had."
As a WordPress Technician, Diamond helps support a variety of WordPress plugins. "I also get to help test new things (yes, I'm paid to break stuff!), and I help with documentation, so folks can better understand and use our products," she says.
Diamond sees herself as part of the infrastructure in tech, rather than someone at the forefront. "What I do," she says, "and what makes me proud every day, is practicing the art of translating technical language and software into something accessible and fun for end-users. I do lots of behind-the-scenes work helping improve UX for software I work with—it helps that it starts with great code from amazing developers, for sure!—and I help interpret that for folks who may not live and breathe code."
Most influential in her career journey was the person who told her at 14 that women were incapable of learning math or science and that they certainly shouldn't expect to work in those fields. "I took what could have been an incredibly harmful influence and used it to empower myself and inspire me to create the life and career I was determined to have."
Having been around tech in one form or another since she began studying for her ham radio license at age 11 ("back when a person had to learn Morse code to get it!"), Diamond is pleasantly surprised by how fast the field has changed to accept women in technology. "That doesn't mean the industry is perfect—I'm white, cisgender, and come from an economically privileged background, and so in many ways, the entry barrier was lower for me than someone without those factors in place," she says. "Nonetheless, each decade, I see significant progress made toward acknowledging the fact that everyone, of every gender, is capable of contributing to and benefiting from technology."
Diamond also appreciates how Liquid Web has cared for its employees and customers in the face of challenges brought about by the pandemic. "I'm grateful for how quickly Liquid Web pivoted to all-remote and the support they've offered each employee and customer during what is a life-altering event for all of us," she says. "The growth of the industry during this time, and the ways we've been able to help folks scale online very rapidly, is personally meaningful to me." In addition to working in a company invested in its employees, she says that her husband, their adult son, friends, and faith community have all played integral parts in her success.
Her motivations in work and life are simple—a desire to leave this world in a little better shape than when she first entered it. "Not everyone gets to be on the world stage promoting sweeping changes, but I believe every person holds power to create positive change in their own life and the lives of those around them."
As far as the future of women in tech, Diamond says that, on good days, she can recognize the environment becoming more accepting, more diverse, and more welcoming. "Someday, I hope that the idea that women were once not accepted in tech seems as much ancient history as a trilobite fossil does to us today." But she is also realistic about the amount of progress still needed and the hurdles remaining to be cleared. "Don't believe anyone who tells you that you have to be a certain type of person, present a certain way, or check the boxes on some '100% geek' checklist. If I can design and knit socks while taking (and even teaching!) technology classes, you can certainly bring whatever makes you unique into the field with you."
Diamond loves working in tech because connecting with people is at the heart of her passions. "I genuinely love meeting folks, even virtually—so if you've read this and you're an SolidWP client, be sure to say hi the next time you stop by our helpdesk!"
About the Author
Jackie Cowan
Jackie Cowan is the Communications Manager for Liquid Web. She received her MS in Communications from the Ithaca College, MLIS in Library and Information Science from the University of Pittsburgh, and BBA in Management Information Systems from the University of Michigan. She has 10 years of experience with technical and billing support, search engine optimization, and spearheading projects to enhance company culture.
Want more news and updates like this straight to your inbox?
Keep up to date with the latest Hosting news.