Women in Technology: Malin Lorch
An InterWorx software engineer on being unafraid to ask questions, her favorite parts of programming, and making space for creativity.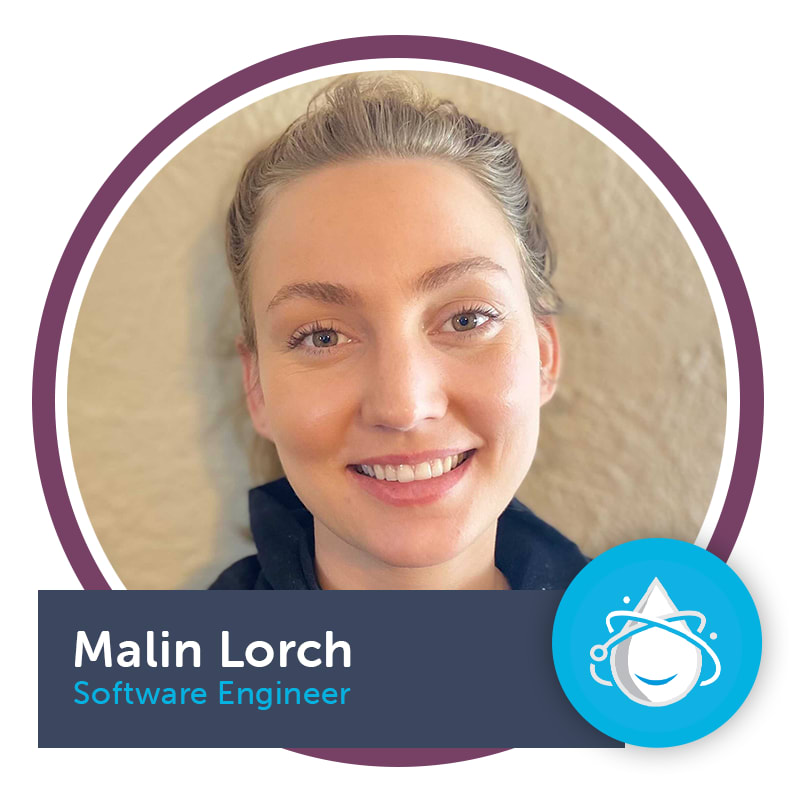 Malin Lorch grew up in a small town in Sweden. After high school, she decided to travel, and she met her now-husband while backpacking through Southeast Asia. She travels a bit less these days. Her favorite way to spend a day is some quiet time at home with her 11-month-old baby and husband.
Five years ago, Lorch moved to the United States. A short time later, she began working as a developer after completing a degree in web programming. "Before going to school, I worked within many different sectors, cleaning, waitressing, and customer support, among others," she says. "I was fed up with that kind of work and decided to study web programming, not because I am super technical by any means, but because I enjoy problem-solving."
Now, Lorch works as a software engineer on the InterWorx team, a control panel for managing servers for web hosting. "I really enjoy programming," she says. "My favorite aspect of it is to structure maintainable code, not just 'get it working' but also make it maintainable and self-descriptive."
Lorch does her best to allow creativity to take up space in her work, letting her instincts lead. "I try to be as present as possible during work," she says. "It is easy to get into the mentality of work being a means to an end. I don't want to spend most of my days in that mentality. So instead, I try to be as present as possible during work. I try to let my creative side flourish, allowing me to perform tasks in the most fun way. One example is honoring code quality and spending an extra hour trying to understand the root of the problem and following my curiosity. I'm so lucky to be part of a team that allows me to work in this way."
In all things, Lorch is interested in growth. "I'm not afraid to ask questions, to make sure I really understand what the aim is, even if it is clear to others, or to discuss the best approach and not feel inferior to those with better knowledge, but to learn from them," she says.
Lorch is grateful to her InterWorx colleagues, who trusted her to take on projects and pushed her to believe in herself from the very beginning of her tech career. "Don't be afraid of breaking things," Lorch says. "That's how you learn. I think most developers are super nervous about introducing bugs at the beginning of their career, and many adopt the mentality 'don't change it if it works.' But then no one really knows how it works, especially when bugs are introduced and become super hard to track down. So it leads to a fragile product. I also believe that refactoring code is a way of making sense of it – you should not be afraid of touching old code and making it make sense for yourself and others."
She also encourages others not to take things personally. "You may stir emotions by questioning different processes or design decisions; that does not mean you should not ask those questions. Talking about these things without making it personal may be a learning curve, but it is a skill that will serve you well in the future," she says. "We all come from different backgrounds; the fact that I have not spent every waking hour since I was 10 in front of a computer does not mean that I can't be a good developer. The overall attribute to success within this field is not to let the ego get in the way of learning. Dare to make mistakes, ask silly questions, and learn from it all."
Lorch believes that the more women move into tech, the more the landscape will shift. "The climate will probably change a bit as more women enter the field, moving from a typical male hierarchical structure to a softer approach where discussions can be held without power struggles getting in the way. I also hope to see that women are better supported in life events such as birth and childrearing. Sadly, so many tech companies don't offer maternity leave, as being fully present with your child at the beginning of their lives is essential for a child's development."
She insists that young women should follow their curiosities to find their place in the world of tech. "Don't think that you have to be a certain kind of person or have certain hobbies or love computers to be successful in technology! The most important thing is that you enjoy problem-solving and are willing to learn."
About the Author
Jackie Cowan
Jackie Cowan is the Communications Manager for Liquid Web. She received her MS in Communications from the Ithaca College, MLIS in Library and Information Science from the University of Pittsburgh, and BBA in Management Information Systems from the University of Michigan. She has 10 years of experience with technical and billing support, search engine optimization, and spearheading projects to enhance company culture.
Want more news and updates like this straight to your inbox?
Keep up to date with the latest Hosting news.