Women in Technology: Kasia Zukowska
A Support Manager at LearnDash on the importance of clear communication, the excitement of technological advances, and her love of travel.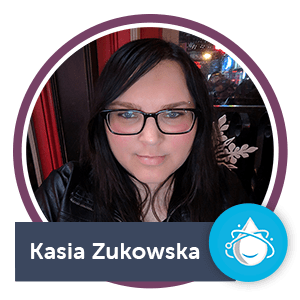 Kasia Zukowska was born in Seattle, Washington, to political refugees. When she was seven years old, her parents were allowed to return to their home city of Walbrzych, Poland, after the collapse of the Soviet Union. Zukowska grew up in Poland, making lifelong friends with whom she maintains strong relationships despite the distance thanks to technology. "My childhood was kind of a rollercoaster," she says, "but it made me who I am today."
Zukowska always knew she would return to the United States, and at 19, she moved to Florida, where her father was working on a boat. Eventually, her mother and younger sister followed. Still a resident of Florida, she plans to move to Boston soon. "I love Boston—the history, the food, the weather. Lots of snow!"
Perhaps in part due to the nomadic nature of her upbringing, Zukowska deeply loves travel and exploration. "I'm at my happiest when I am traveling," she says. "I'm good as a solo traveler, but these days I usually travel with my significant other, Ryan, family, and friends. Quality time with friends and family is important to me." For Zukowska, the only downside of travel is missing her two French Bulldogs, 3-year-old Gaia, and 6-month-old Freya.
Zukowska has worked in tech since 2013. "Before that, it was all customer service positions in retail, restaurants, and call centers," she says. But her first technology job was starting her own business designing WordPress websites for customers and hosting and maintaining those sites. "Starting my own business was one of my proudest accomplishments. I have always been an entrepreneur at heart," she says. "It's how I express my creativity and ideas. So starting a business was both a challenge and an accomplishment."
In 2016, Zukowska joined a tech company as a contractor, but upon discovering that she disagreed with their business practices, she began looking for a company that was ethical and cared about its employees. "That's how I found LearnDash," she says. Having spent nearly five years with LearnDash, Zukowska works as a Support Manager, ensuring her team and customers are cared for and happy.
"There are several things I love about being in tech," she says. "I love the ability to work remotely from anywhere in the world, which goes hand in hand with my passion for travel. It's also amazing to have the opportunity to learn new skills, and the comfort of knowing the industry only keeps growing with more demand. I love the culture, too! I'm always excited to see the directions in which technology is progressing and utilizing emerging technologies."
In her life and work, Zukowska says that it is essential to know what she stands for so that her actions can reflect her values. "I like to align myself with businesses and use products that share the same values I have—protecting Equality, Animal Rights, Women's Rights, LGBTQ+ Rights, Social Justice, and the Environment."
Zukowska brings passion to her work and is always striving to grow and help others where she can. "Knowing someone is counting on me is a great motivator," she says. "I work much harder when I know my results are directly impacting someone like teammates or customers." Good communication is also the backbone of her work. "Communication is very important to me! When things go wrong, it's usually due to a break in communication. I like to keep all parties informed and clear on our goals."
She is eager to see what technological advances are in store in the years to come. "Sometimes I'm jealous of younger generations because technology is going to revolutionize the world even more than it already has. I want to see it happen too! There are already fascinating things technology is used for, like live language translation headsets being used to break the language barrier. (I will be trying one of those out on my trip to Poland since my significant other doesn't speak Polish, and I don't want to play translator!)."
She encourages young women to explore the opportunities tech offers if it sparks their interest. "I have a niece, Wiktoria, who is 18 and soon going to college," she says. "I always try to expose her to as much technology as possible and guide her towards a career that will be here 20 years from now. One that she is passionate about but gives her the lifestyle she wants."
To young women like her niece, Zukowska offers the advice that learning should be ongoing. "Technology changes so quickly. If you want to succeed in the field, you need to continue learning to keep up and stay relevant."
About the Author
Jackie Cowan
Jackie Cowan is the Communications Manager for Liquid Web. She received her MS in Communications from the Ithaca College, MLIS in Library and Information Science from the University of Pittsburgh, and BBA in Management Information Systems from the University of Michigan. She has 10 years of experience with technical and billing support, search engine optimization, and spearheading projects to enhance company culture.
Want more news and updates like this straight to your inbox?
Keep up to date with the latest Hosting news.