Women in Technology: Gina Lucia
Iconic & Orderable's Content Marketer on creativity, deep work, and inclusivity in tech.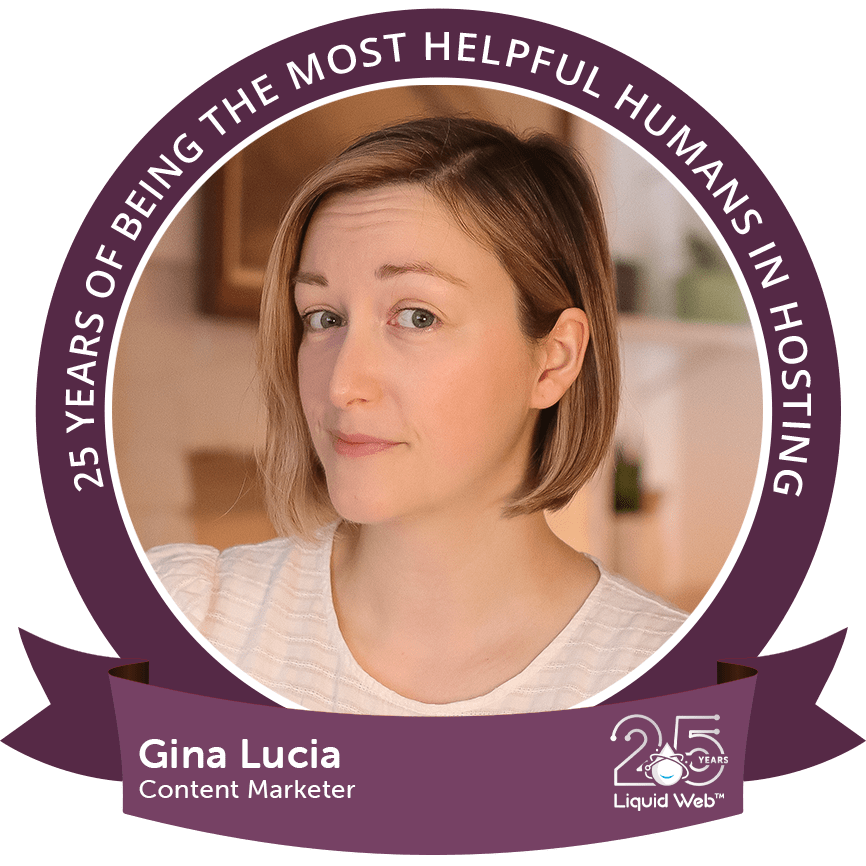 Growing up in a creative family, Gina Lucia had creativity and business built into her childhood. Though she now lives in Bristol in the UK, Lucia grew up in the West Midlands with two artist parents who explored sculpture, photography, painting, and video. "They did this as a leisure pursuit and then turned it into a job by creating a graphic design business," she says. However, Gina's artistic calling was more literary. "I grew up around that business and design mindset, only translating it into the written word once I got to university and did a Creative Writing degree."
Lucia has spent the past decade working in tech, starting in the family business by coding and designing websites for clients. Eventually, she pursued a solo career in freelance web design. "It wasn't until website builders like Squarespace and Wix started to become more usable that I switched to content writing and finally put my Creative Writing degree to use," she says.
Now she brings her creative skills to the Liquid Web family as a Contracted Content Marketer with Iconic & Orderable. "I like to think of my role as translating technical speak into something the average person can understand and get to grips with. I write articles, documentation, emails, product descriptions, and more for both Iconic and Orderable," she says.
Passionate about communication, it comes as no surprise that one of the most appealing aspects of a job in tech is, for Lucia, how easy it is to talk to people. "People who work in tech understand what you want or mean on a technical level, and they grasp it much faster, too," she says. "They're also not afraid to try new systems and techniques. Because tech moves so fast in general, people in tech are used to moving with it. So they're less afraid to adapt."
Books have played an essential role in Lucia's professional and personal life. "I'm a book person," she says. "Many of my working techniques or changes I've made are down to them. But honestly, I'd attribute my success to persistence and not giving up. When I was younger, I'd give up on things very quickly. Violin, flute, bass guitar – after just a few tries, I'd realize it was too difficult and give up. As an adult, I realized that things don't work that way. On the internet, things move and happen so quickly that it tricks your mind into believing it must happen for everyone. But it doesn't. You must work hard and keep going to achieve what you want."
Lucia's working style is deep work. "If you've ever read Cal Newport's book Deep Work, then you know what I'm talking about," she says. "If not, go read it! Deep work essentially means that you focus on one task without any distractions whatsoever. The technique sounds simple, but it's not easy with all the distractions we have these days." What that means for Lucia is batching like-minded tasks together and getting them all done in one deep work session. "By working this way, I get a lot done in a small amount of time. Giving me more time for rest."
For Lucia, progress is all about balancing rest and growth. "I enjoy continuously improving. Without that, I think I'd feel demotivated. This doesn't just relate to my working life," she says. "I enjoy making small, 1% improvements to almost everything gradually and sustainably. There's nothing more fulfilling than looking back on the year and seeing how much progress you've made without burning yourself out."
As for the future of women in tech, Lucia notes that there is still unconscious bias in the tech world. "Although some progress has been made," she says, "I feel there needs to be a cultural shift. These biases result in institutional barriers that need to be brought down. So I think we're going to continue in the same direction. Chipping away at progress while championing diversity."
She notes the importance of seeing more promotion of trans women in tech, as well. "While many meaningful movements like Women in Tech might also champion trans women, it needs to be more explicit on websites and marketing materials," she says. "It needs to be part of the conversation."
Lucia believes the best way to encourage more women to enter the field is for women in tech to talk openly about their experiences. "Young women want to see themselves in these roles," she says. "If all they see are white men, it makes it much harder."
An avid reader, here are Lucia's non-fiction book recommendations:
Deep Work: Rules for Focused Success in a Distracted World by Cal Newport
Grit: The Power of Passion and Perseverance by Angela Duckworth
Digital Minimalism: Choosing a Focused Life in a Noisy World by Cal Newport
Essentialism: The Disciplined Pursuit of Less by Greg McKeown
Brave, Not Perfect: Fear Less, Fail More, and Live Bolder by Reshma Saujani
About the Author
Jackie Cowan
Jackie Cowan is the Communications Manager for Liquid Web. She received her MS in Communications from the Ithaca College, MLIS in Library and Information Science from the University of Pittsburgh, and BBA in Management Information Systems from the University of Michigan. She has 10 years of experience with technical and billing support, search engine optimization, and spearheading projects to enhance company culture.
Want more news and updates like this straight to your inbox?
Keep up to date with the latest Hosting news.