Women in Technology: Edith Fernandez
Liquid Web's Managed Applications chat supervisor on her upbringing in India, what led her to tech, and how she hopes to inspire other women.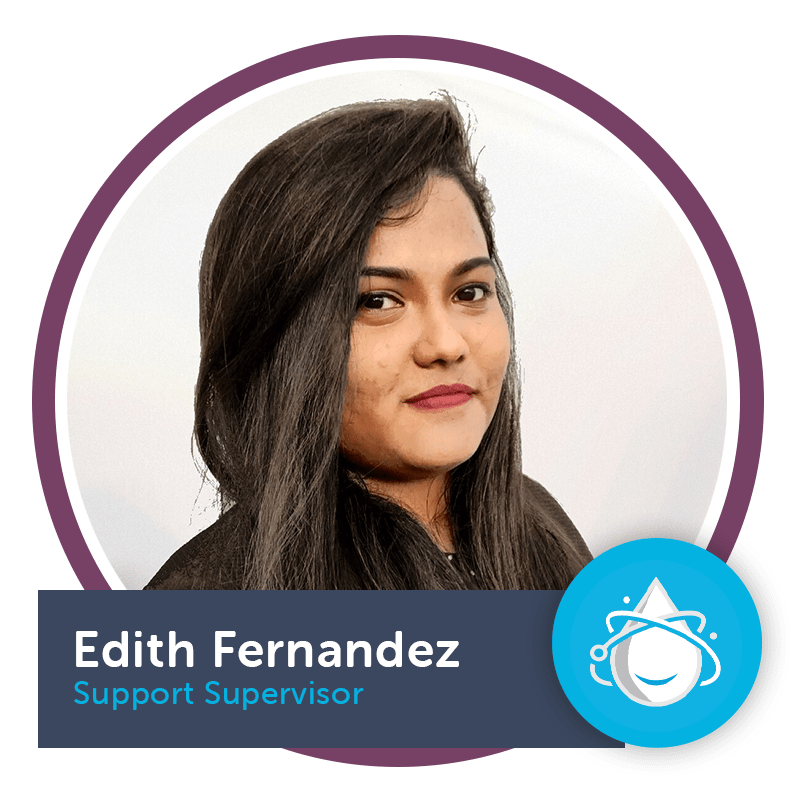 Growing up, Edith Fernandez was always fascinated by electronics. "Each time my family bought a new gadget, I read its user manual and tested it out," she says. "My curiosity eventually led me to the tech industry."
Fernandez was born in Kerala, India. "My family was running a business," she says, "so most of my childhood was involved in my mom's business. I was her accountant, and I used to help her with all kinds of designing, beading work, and ironing. She called me a pro designer." Since my mother was running a tailoring unit at home, the family often had many visitors, and Fernandez and her sister served tea and snacks to customers as they came and went. "My mom was an entrepreneur, and I think I have her values," says Fernandez. "She valued customer satisfaction above the money she made."
It was eventually the goal of being able to support her mother and two sisters that led Fernandez to tech. It was not an easy path. From telemarketing jobs to door-to-door sales to working for a tourism company, she eventually found her way to IT, enrolling in a CCNA class. "One day, the student advisor announced that there was a fast-track course that would also prepare you for RedHat certifications," she says. "Knowing nothing about it, I enrolled in the class and fell in love with Linux." Within a few months, Fernandez earned certifications for RHCSA and RHCE.
Fernandez started with Nexcess in the early 2020s when she was hired for the provisioning department. "I liked the job, but I wanted to do something more, so I asked for a change," she says. "I got the opportunity to get into tech support. I worked as a tech for four months and was promoted to my current position."
Now at Liquid Web, Fernandez works with the Managed Applications Chat Support team. "We are the front line of defense, so chats are our priority and primary responsibility," she says. Since chats are our customers' first point of contact, I need to stay up to date about what is happening around the technological world and pass that information to the entire team to make sure they are ahead of the game, ensuring the best possible customer experience."
As a Managed Applications Chat Support Supervisor for over 50 technicians, Fernandez leads, coaches, trains, and encourages her team. "I love taking ownership, diving deep to find areas of improvement within the department, and contributing ideas that can benefit both the team and the company," she says.
Fernandez loves the fast pace of the tech field and the rapidity with which change occurs. "The technology you use today will not function the same way it functioned a few months back," she says. "Versions keep changing or need upgrading or stop working, so you need to stay current.
Of her work accomplishments, Fernandez is most proud of her work collaborating with the Nexcess leadership team. "It has shaped the way I view leadership," she says. "Today, I lead a chat team of over 50, and I strive to make a difference for my team every day. The Nexcess leadership team showed me how essential a good manager can be, especially in tough circumstances. The management team here has never stopped inspiring me."
Fernandez is happy to inspire other women, especially Indian women and girls. "The cultural norm in India is that life is programmed—there is an age to graduate, age to get married, an age to have a baby, an age to have a second baby, age to send them both to school, and then the cycle repeats itself. I never fulfilled any of those criteria," she says, "but I think of the Indian astronaut, Kalpana Chawla. She always had a dream of landing on the moon. Even though her parents believed it was not a suitable career option for girls. She made it to space, a feat achieved with hard work and dedication. Women should have that urge and get out of their comfort zone and go after their dreams meant to be conquered."
Caring deeply about her customers has made all the difference in Fernandez's career. "Success doesn't come with just degrees and certificates. With every ticket, every customer, you have to think big, look around for ways to stand out, and not compromise on delivering the right results and serving the customer better. You must take pride in your work."
Her advice to women interested in pursuing a career in tech is to create a vision of what they want to become. "IT is a vast field. There are so many areas and opportunities where women can excel," she says. "There is nothing that cannot be achieved. So dream about it, work towards it, don't be afraid to ask for help, and go after what you want."
About the Author
Jackie Cowan
Jackie Cowan is the Communications Manager for Liquid Web. She received her MS in Communications from the Ithaca College, MLIS in Library and Information Science from the University of Pittsburgh, and BBA in Management Information Systems from the University of Michigan. She has 10 years of experience with technical and billing support, search engine optimization, and spearheading projects to enhance company culture.
Want more news and updates like this straight to your inbox?
Keep up to date with the latest Hosting news.