Women in Technology: Carrie Wheeler
Liquid Web's Chief Operating Officer on the real pull of football, finding her way to a career in technology, and what she loves most about Liquid Web.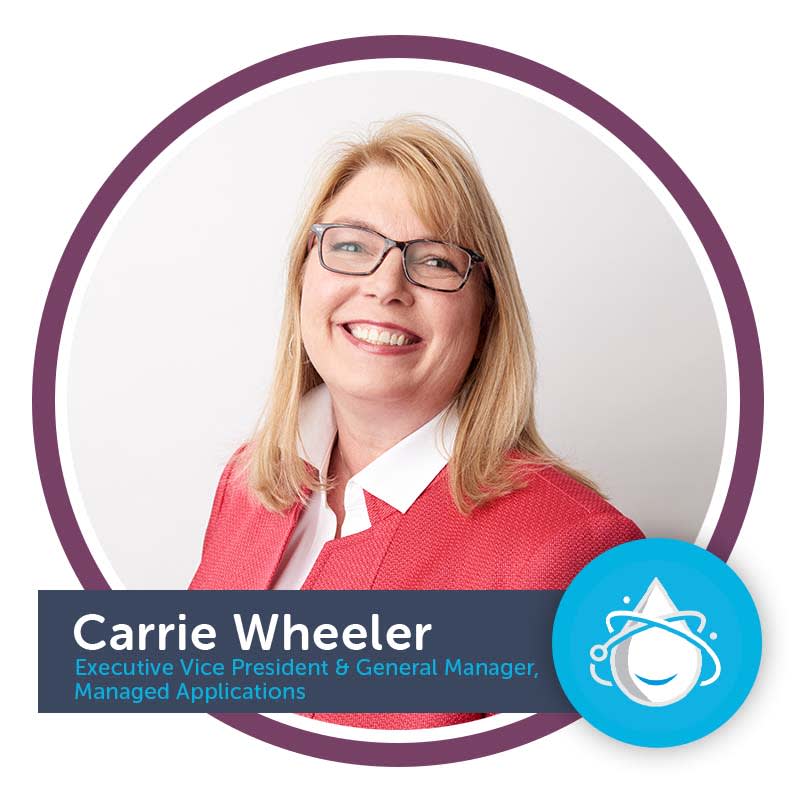 As a kid, Carrie Wheeler earned pocket money by parking the cars of fellow Oklahoma Sooners fans in the yard of her family home. "It was my first job," says Wheeler. "We lived in the shadow of the stadium." Wheeler, who was born in Texas, but grew up in Norman, Oklahoma, would park cars, then slip into the stadium and over the railing to watch her Sooners play from the sidelines alongside the coaches and athletes. "Growing up, we didn't really have a lot of money," says Wheeler, "but we had the Oklahoma Sooners and family. So, our team means so much more to me than football. It's part of the family."
It is this very same sense of family and community that Carrie Wheeler has brought to her vibrant career in technology.
"I actually sort of fell into technology," Wheeler says. She held a number of jobs early in her life— in a candy shop, as a secretary, teaching preschool gymnastics, as a research assistant. After school, she considered a career in banking, but was deterred after an internship in graduate school. "It was not for me," says Wheeler. "A friend suggested that I pursue consulting as a way to learn about different industries and get a feel for what I really wanted to do long term." Wheeler got a job with a Big 6 consulting firm in Dallas and, on her first day of work, was handed a book on Cobol programming. "I learned how to code, which then led to system design and system implementation," says Wheeler. "I found that I was really good at being the translation point between business problems and technology solutions. That's where I really found my groove."
After five years with the consulting firm, Wheeler moved to Atlanta, where she got a job with MCI Communications Corps. There she did everything from managing software development to working as a project manager, from leading product development to customer service. "Over the 13 years that I was with MCI, I had a variety of experiences that help me now to do what I'm passionate about— launching new products, solving business problems, and meeting customer needs with technology solutions," says Wheeler. After her time with MCI, Wheeler went onto to join AT&T, where she honed her skills for leading globally deployed team management and large-scale system deployment and maintenance.
In 2008, Wheeler met Joe Oesterling and learned more about Cbeyond, a company providing VoIP communications services for small businesses. She eventually met more of the Cbeyond team including Jim Geiger and Terry Trout and knew it was the team for her. "We hit it off. I wanted to be a part of what they were doing. I loved their entrepreneurial spirit and culture." Wheeler got great joy out of her move to Cbeyond, where she eventually became Chief Information Officer, then Chief Operating Officer.
After serving four years as Liquid Web's Chief Operating Officer, Wheeler is now taking on a new challenge as the Executive Vice President and General Manager for Liquid Web's Managed Applications division. "I have the distinct honor and the real pleasure of leading our strategic growth area and P&L, says Wheeler. "We've built our vision and culture around being The Most Helpful Humans In Hosting™, and bringing innovative, highly reliable solutions to small and mid-size businesses - particularly web creators and agencies. I have the opportunity to lead the best professionals in the industry committed to building the industry's best managed application and web hosting experience. Our customers' success depends on the value we deliver and they count on us to be their experts when it comes to their Managed Content, eCommerce solutions, and their critical business applications. Every day, 24/7/365, we work to earn their trust and loyalty. I love being a part of that kind of important work and customer-focused environment."
Along the way, Wheeler has been recognized in some impressive ways. Wheeler was the recipient of Women in Technology (WIT) Woman of the Year award in 2011. In 2012, she was a finalist for the Atlanta Technology Professional of the Year award, and in 2013, she was named the Georgia CIO of the Year for the Enterprise Business for the Georgia CIO Leadership Association.
It is unsurprising that Wheeler has thrived in technology, a field that combines her passions for working with people and seeing exciting, innovative work through to completion. "Getting to interact with people, getting to know them and finding out what they're working on— it's a wonderful part of my job. It's a company full of passionate people who understand how their work ties into making Liquid Web a better company for the customers we serve." As Executive Vice President and General Manager, Wheeler loves getting to see employees grow and achieve their objectives. "Last year alone, we promoted over 100 employees," she says. "Just to hear their stories and learn about the journey they're on makes it all worth it. When I'm retired, I probably won't remember the last product enhancement we did, but I'll never forget the part that I played in someone else's journey."
Wheeler's leadership style is not unlike that of a football coach. "Strategy without execution is daydreaming. Execution without strategy is chaos," she says. "You have to work really diligently, day in and day out, to make sure you know what your strategy and vision are, and you have a team around you that's executing that vision." She attributes her success to the same things her Oklahoma Sooners turn to every football season: "Hard work. Listening. Learning. Discipline. Teamwork. Execution."
About the Author
Mayra Pena
Mayra Pena is the former Communications Manager at Liquid Web and has over 10 years of experience in technology. 
Want more news and updates like this straight to your inbox?
Keep up to date with the latest Hosting news.