Women in Technology: Calleigh Fisher
A Liquid Web Product Administrator on being motivated by helping others and encouraging young women to explore all tech has to offer.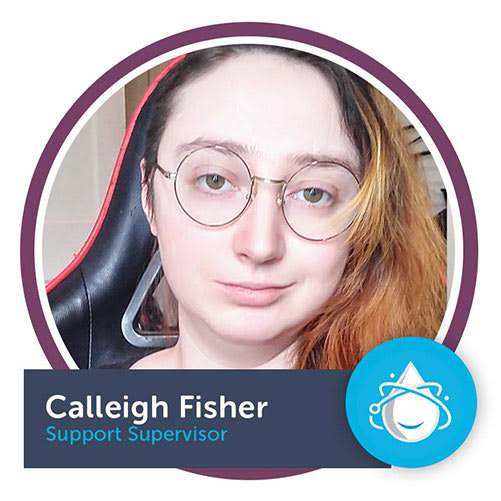 Calleigh Fisher grew up in Birch Run, a small town twenty miles south of Saginaw, Michigan. It was there that, with the help of her step-father, Fisher built her first PC at just nine-years-old. Encouragement, a strong work ethic, and love of technology were early-planted seeds thanks to her mother, grandfather, and step-father. "They inspired me," says Fisher, "and gave me a strong foundation."
Now, Calleigh Fisher's love of people and technology is put to use as one of Liquid Web's Support Supervisors. In 2017, Fisher took on the role of Team Lead for Managed WordPress. Then in 2018, she became a Support Supervisor at the same time. It was a challenge, but one she enjoyed. "I'm the support behind the support team, providing guidance and assisting with escalated customer issues," says Fisher.
Individuals are drawn to the tech field for a multitude of reasons, but for Fisher, it's the people. "I originally went into IT because I thought I would be able to be more introverted," she says. "I was very wrong, and that surprised me a lot! I've grown to love working with customers and my team members who have helped me come out of my shell."
The ways in which her work in technology asks her to connect with people has been a pleasant surprise for Fisher, who now thrives on helping others. "Being able to help support people is what motivates me," she says. "Whether that means being an ear for someone to bounce ideas off of, or just to listen while they go through a rough situation, if it helps my team, I'm here for it. Helping my team succeed after a tricky situation or problem is the best."
Fisher also loves the problem-solving that comes with a career in tech. "When I was a technician, I never knew what I was going to get in a day— what weird or strange problem I would find and do my best to resolve. While my current position has taken me largely out of solving technical problems, I've applied the same mindset as I work through a rotation of needs, taking on issues that may appear throughout the day. My team relies on me to problem-solve and give them back up in tough situations."
For Fisher, getting to see what Liquid Web's customers are building and doing with their innovation and creativity is a massive bonus of the job. "I'm not ashamed to say I've subscribed or ordered goods from some of our customers after working on their sites!" she says.
As a young girl who grew up keenly interested in technology, Fisher believes that we are just seeing the beginning of what women can and will do in the field. "We're going to see many more women in tech," she says. "I was part of the generation where the push for girls to be encouraged in STEM was just getting started. Now, there are so many groups, resources, and programs for young women who are considering this path."
Her pitch to encourage young girls to consider a career in technology simple: LOOK AT ALL THIS COOL STUFF! "I grew up playing with k'nex, rockets, RC cars, and robots. That was a natural fit for me. I've mentored friends of mine who want to get their little girls into technology— there are so many cool programs, specifically with robotics or coding to make games." For older girls and young women, Fisher says the key to engaging and interesting them in technology lies in encouraging them to exercise their creativity. "Create an app for making your life easier, or design a website," she says. "Sometimes, it takes doing the gambit of programming, robotics, and design to figure out what exactly you're interested in. Turns out, I liked system administrator work!"
Her most significant piece of advice to young women interested in tech is to experience many areas of expertise the field has to offer. "There are so many options," she says. "You just have to find the area that interests you. Try it all. Find your niche. There's no such thing as too much knowledge. This is a field with many moving but interconnected parts. We need people who thrive in and are thrilled about the areas in which they excel."
About the Author
Mayra Pena
Mayra Pena is the former Communications Manager at Liquid Web and has over 10 years of experience in technology. 
Want more news and updates like this straight to your inbox?
Keep up to date with the latest Hosting news.