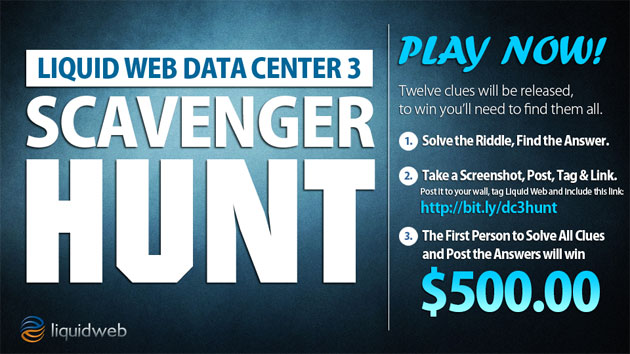 Like a photo hunt with additional dimensions or a full-on Datacenter-wide scavenger hunt that you can do from the comfort of your computer chair; this interactive game you participate in by utilizing our DC3 Google Street View tour combines the best of both worlds. Participants can win $500, free hosting and an array of awesome prizes from the Liquid Web shop!
How to Play: Starting immediately, help us hunt down the items in our Google Street View tour by decoding the clues listed below. We will release 3 clues per day at 1:00 p.m., until Friday, April 26th, totalling to 12 clues. The winner will be announced after 5pm on Friday.
Day One Clues:
It's a bird! It's a plane! It's a fearsome aquatic predator!
The guy who played Frank White celebrating Movember.
A man who will never give you up or let you down.
Day Two Clues:
Even sith lords need a break sometimes.
Motor Trend's 2011 'Truck of the Year'
On the banks of the red cedar, there's a hero known to all …
Day Three Clues:
A man who would definitely approve of this: http://bit.ly/17krhA3
An umbrella won't protect you from this kind of rain!
Someone taking a break from the Caribbean.
Final Day Clues:
Hanging commemoratives that very few Liquid Web Heroes have achieved.
A Hero on the move.
A Pushmepullyou split in two.
Check in each day this week at 1:00 p.m. for the next batch of clues!

View Larger Map
What's Next?
Take the Liquid Web DC3 Google Street View tour and find what each above clue is looking for.
Each time you discover an item, take a screen-capture of it, add your LiquidWeb.com/Shop username to the picture, and add a link to: http://bit.ly/dc3hunt in the photo description.
Post these pictures to your Facebook or Twitter account and tag Liquid Web. Don't forget to add http://bit.ly/dc3hunt in the photo description!
Check in every day this week at 1:00 p.m. for the next batch of clues. The last batch of clues will be on released Friday, April 26th and the winner will be announced after 5pm.
The first individual that solves all 12 clues and posts unique screen capture picture answers from the Street View tour along with their username and a link to this blog post is the Grand Prize Winner of $500!!! The next 10 individuals to complete this task will receive $250 of free hosting. After these prizes are awarded, there will still be opportunities to win Liquid Web bucks you can use on great items from LiquidWeb.com/Shop, so keep playing!
Rules & Regulations:
Screenshots posted must tag 'Liquid Web, Inc' on Facebook or @liquidweb on Twitter.
Submissions must include Liquid Web Brand Store username on the screenshot to be eligible to count as a completed item. If you do not have a username but wish to participate, please register at Liquidweb.com/Shop.
Screenshots must also include a link to: http://bit.ly/dc3hunt in the photo description.
Winners will be notified of their winning submission via reply on Facebook or Twitter from Liquid Web.
The contest will begin at 1pm (Eastern) on April 23rd, 2013 and last until 5pm (Eastern) April 26th, 2013 or until we have awarded all of our prize packages.
Screenshots must not be repeats of any photos previously submitted to Liquid Web. All entries must be new and unique with YOUR LiquidWeb.com/Shop username written on them.
Liquid Web employees and Employee family members are ineligible to win cash prizes or hosting credits.