A CDN, or Content Delivery Network, is a large distribution of servers deployed in multiple data centers across the world with the goal of serving content to your end users with high availability and high performance. A CDN can speed up your content delivery around the world through its network of strategically located servers that are closer to your end users.
CDNs are more and more necessary as the pressure increases to keep your website or application performing at top speed for your end users, no matter where they are located. With rising expectations for speed and interactivity on the Internet and an expanding global marketplace, a CDN can help your website perform as fast for customers across the globe as it does for customers in your own region.
At Liquid Web, we aim to ensure that our customers have access to top-of-line services for any need they may have. Our customers have already seen faster load times and industry-leading I/O performance utilizing our Storm™ Platform in various configurations. However, we are always striving to improve our offerings. To this end, Liquid Web has partnered with the Akamai Edge Network, the world's largest and most experienced CDN (Content Delivery Network), to provide even faster delivery of digital media content for our customers.
How does a CDN work?
With the Liquid Web CDN, powered by Akamai, fresh content is continuously pulled and cached from your primary server(s) onto strategically-placed, secure servers that are closer to the end user. For example, you might have a primary server hosting your website or application in the United States, but have a large visitor base in Europe. The main content of your website can be stored on a node in Europe, delivering the content to European end-users more quickly and efficiently. The CDN takes in user requests to view your website content and directs them to the closest server on the network.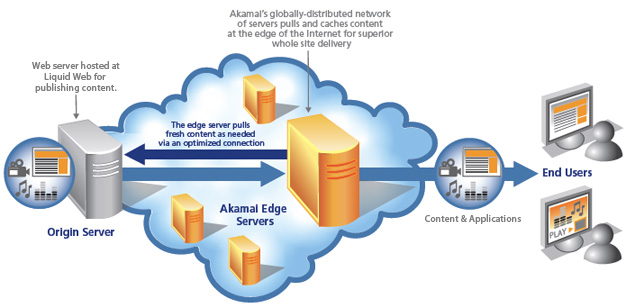 While static content can simply be stored on the closest CDN node, the network utilizes the fastest "route" back to your primary server(s) to retrieve the dynamic, or changing and interactive, content and then delivers it back to the end user. In addition, secure information is protected and only delivered from highly secure portions of the network.
Liquid Web's CDN, Powered by Akamai
As an Akamai Client, Liquid Web provides our customers with the ability to increase their global reach over 2,000 percent more than any other previously available option. The Akamai CDN also has an expansive reach, spanning 250,000 servers in over 80 countries and provides a superior platform that is responsible for between 15 and 30 percent of all Internet traffic, worldwide. Other benefits of the Liquid Web CDN powered by Akamai include:
Significantly bolster speed & decrease load times, worldwide
Reduces load on your Liquid Web server(s)
Onsite Heroic Support® available 24/7/365
Helps scale capacity for changing needs
Ensuring security while data travels across networks
Provides visitor reports for analytics
Improved SEO & conversion rates
The Liquid Web CDN powered by Akamai is your gateway to fast and efficient global access. Our partnership with Akamai ensures our customers have access to a trusted provider with a global reach rivaling anything available, as well as Liquid Web's Heroic Support® available 24/7/365, onsite. Let Liquid Web customize a plan for your needs and help you serve your global customers faster than ever with our expansive CDN powered by Akamai!
If you're interested in learned more about the Liquid Web CDN, Powered by Akamai, Live Chat or call our Sales team today at 1-800-580-4985.