Rise Above the Crowd with the Liquid Web Cloud
Throughout the office last week, Liquid Web employees worked even more diligently than usual in order to reap the benefits of their hard work at the Common Ground Music Festival, a 7 day celebration of music in Lansing, Michigan featuring everyone from The Barenaked Ladies to Ludacris. Our lucky employees didn't just attend the festival, they were also given free VIP passes to our special Liquid Web Cloud Platform (our own, official, VIP pavilion) for each night of the festival. In the end, we gave away nearly 500 tickets to our hard working employees and deserving clients.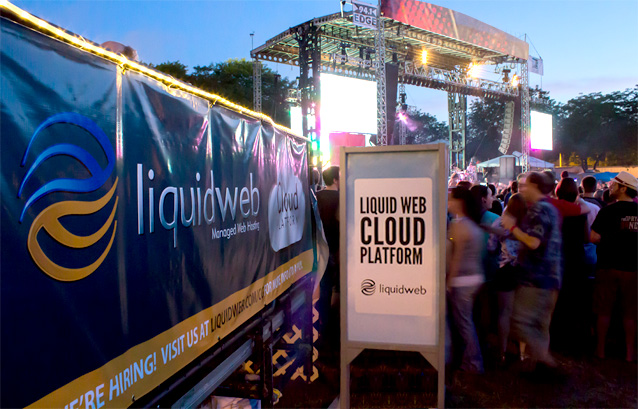 The week long festival provided musical entertainment of all kinds, allowing all of our employees to participate and benefit, no matter their musical taste. With comfy couches, beverages and a tent for protection from the weather, the Cloud Platform was busy all week long. We even had a few clients stop by, such as Backstit.ch, and TechSmith. Work hard, play hard is our motto at Liquid Web, and the week of music, camaraderie, and fun was exactly that!
Our Cloud Platform at the festival, of course, derived its name from our set of cloud products that we call the "Storm® Platform" Much like the pavilion at Common Ground kept our employees and clients above the crowd, providing a great view of all the headliners on the main stage, our Storm® Platform keeps our customers above the competition with regard to service and value.
With the Storm® Platform's flexibility and on-demand scalability, it is perfect for the client with changing needs and fluctuating traffic. With our Storm® Platform, customers can create or destroy our cloud servers and storage volumes as they need them to build a complete and scalable cloud environment for their website or application. In addition, customers only pay for what they use, based on a per-day pricing.
Oth
er features of our Storm® Platform include:
Easily upgrade or downgrade
Create deployable server images
API enables programmatic access to serve
SSD available for High Performance Environments
Move between Storm® VPS & Storm® Dedicated
Bandwidth included
Liquid Web employees and clients thoroughly enjoyed themselves while sitting in our "Cloud Platform" at Common Ground last week. If you're looking for a similar VIP experience for your hosting needs, the Liquid Web Storm® Platform can help you rise above the crowd of competition, providing your peace of mind so you can take time to sit back and enjoy the fruits of your labor.
If you're interested in learning more about our Storm Platform, Live Chat or call our Sales Team at 1-800-580-4985.