The Benefits of Consolidating Your Hosting Infrastructure and IT Needs
As an organization in the 21st century, you're going to have IT needs. Big, small, or somewhere in-between, your organization has systems that require hosting. As most organizations scale, they add new functionality and systems, which require integration, sometimes with legacy infrastructure. This can get extremely disorganized.
Ask yourself the following questions:
Are all your services (website, database, email, virtual desktop, etc.) with a single hosting company?
Are you sharing server space with another company?
Are you using a cloud server vs dedicated server?
Is your data secure?
Is it being backed up?
When was the last time you performed a review of what is hosted where? How certain are you that there is no overlap or overpayment in the services you pay for? Have you entertained the benefits of consolidating hosting?
What are the Reasons to Consolidate Your Hosting?
Consider these five key reasons to consolidate your hosting:
Recover Lost Time: Fewer vendors equates to less management. This recovered time means that your team can work on the business as opposed to vendor management.
Improved Vendor Quality: Vendors aren't just companies you do business with, they're relationships to be cultivated.
Simplified Processes and Project Management: Quality vendors craft their SLAs around taking the burden off of their customers and making the experience as stress-free as can be.
Product Portfolio: When you make the decision to consolidate your vendors, you must have confidence that their current product portfolio, as well as their product roadmap, can support and scale alongside your business.
Increased Purchasing Power: When you increase your spend with a given vendor, in turn, you build value with that vendor. This higher value often results in more leeway during price negotiations and cost savings being passed on to you.
The more you understand your own hosting infrastructure, the more control you have over it. This not only puts you in a position to potentially lower your total cost of ownership (TCO), it makes you more IT agile.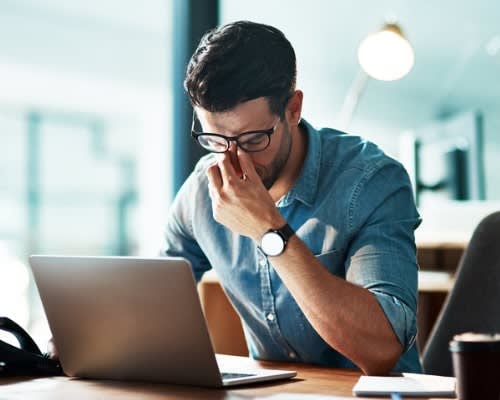 Managed Vs. Unmanaged Hosting
When you hear the term hosting infrastructure, you're hearing a catch-all term for the organizational chart of your hosted services. In particular, your website, your email, and your database(s).
The first categorization associated with hosting infrastructure is managed or unmanaged.
Unmanaged Hosting
An unmanaged (or self-managed) hosted service is one in which an outside provider provides the OS and the server space while your organization is responsible for installing, managing, and maintaining your own applications and services.
They provide the kitchen. You provide the groceries and make the meal. Okay, it's not the world's best metaphor, but you get the idea.
Managed Hosting
With managed hosting, the provider not only provides the OS and the server space, they provide all the applications and services and take responsibility for maintaining your ecosystem (patches, updates, etc.) along with providing security (encryption, redundancies, etc.).
They not only provide the kitchen but also the groceries and deal with the cleanup. You just cook.
The upfront cost of a managed hosted service appears more costly than an unmanaged solution, but anything beyond a very simple ecosystem is going to require dedicated staff, expensive hardware, and physical space.
Beyond the obvious—namely web hosting, email, and server space—managed hosts may provide Desktop-as-a-Service (DaaS), Software-as-a-Service (SaaS), Platform-as-a-Service (PaaS), and Disaster Recovery-as-a-Service (DRaaS).
Consider TCO for Hosting Infrastructure
With so many products, solutions, environments, categories, services, kinds of services, and service tiers, it's hard to keep track. But, it's important to keep track of your hosting infrastructure and to consolidate your hosting infrastructure when possible.
Why?
The most obvious reason for hosting infrastructure consolidation is lowering your Total Cost of Ownership (TCO). Outside of major corporations, in-house solutions are economically impractical. Coupled with build costs and the physical space requirements, in-house solutions require constant monitoring, maintenance, upgrades, and employees to do the work, all of which comes at a price. A managed hosting provider will inevitably (especially long-term) reduce your TCO.
Beyond TCO, however, a good understanding of your own hosting infrastructure makes your organization more agile. Whether your organization wants to react to the market quickly, keep its uptime high, or pivot, knowing what services are hosted where and how they function is essential for agility. Additionally, having a single provider makes getting a grip on hosting infrastructure that much easier.
Your company needs IT and externally managed hosting providers are increasingly economical options. However, it's not good enough to simply hand over the reins and take a nap.
Your organization needs to have a clear picture of what you're hosting, who you're hosting it with, and how that vendor structures their operations. A clear picture of your hosting infrastructure (and theirs) will not only save you money but will also make your company more agile—so, the next time you need to react to market conditions, you'll know what levers to pull.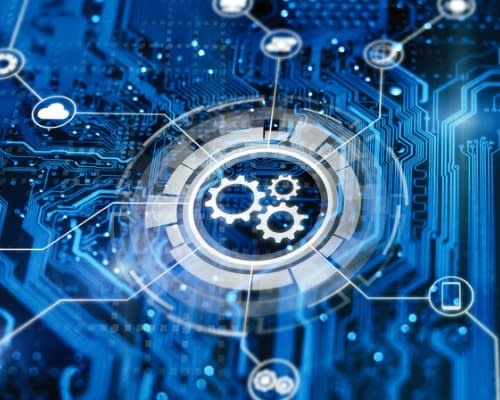 Where are the Opportunities for Hosting Infrastructure Consolidation?
Automatic WordPress Updates and Post-Development Management
Your website is the virtual front door for your business. It represents your brand, your mission, and differentiates you from your competitors.
With that in mind, are you able to validate the last time that core and plugin updates were performed and tested on your site? Is your current host taking the proper measures to ensure that there are no adverse effects after the updates?
You should be confident that your host is taking action to ensure that your site is performing at an optimal level at all times.
Our Managed WordPress solution is delivered by Nexcess, our Digital Commerce Cloud Platform. By utilizing Managed WordPress, you are ensuring that your business-critical site is always up-to-date to deliver a clear conversion path for your customers. Not only is the maintenance of your site off of your plate, but you will also have 24/7/365 support from WordPress specialists at your fingertips.
For example, a WordPress development agency looking to free up time for their staff after a site has been developed can utilize the Managed WordPress product and leave the post-development management to our WordPress specialists. This allows the agency's staff to focus on revenue-generating activities such as development as opposed to routine maintenance.
All-in-One eCommerce Solution
If the success of your business depends on an eCommerce storefront, you need to have all of your bases covered when it comes to uptime, performance, and compliance. As a business owner, you are already pressed for time. If you are piecing together your eCommerce infrastructure instead of using an all-in-one solution, you are burning unnecessary time on payment processing and shipping, as well as core and plugin updates.
Another thing to consider is how your current hosting provider will react in the event of a spike in traffic. They should be providing proactive measures for their customers as opposed to scrambling. You can't risk a moment of downtime, especially during a sale on your site around the holidays. That's why our Managed WooCommerce platform, delivered by our Digital Commerce Cloud Platform by Nexcess, features responsive autoscaling for traffic spikes, so you can have peace of mind that you will continue to receive orders.
PCI Compliant Hosting
In the event that you store sensitive financial data, such as credit card info for a membership site, you need the layer of security that fully managed PCI Compliance Hosting provides. Without a PCI Compliance certification, you risk exposing sensitive data to hackers as well as the potential for fines.
Business Email
Have you experienced a time in which your business or employees couldn't be reached by email? Did your business come to a screeching halt? Liquid Web's Fully Managed Premium Business Email ensures 100% uptime, high-quality spam and virus protection, as well as domain branding in order to maintain a professional digital presence.
With Liquid Web's Premium Business email, you won't have to worry about troubleshooting or performing hands-on maintenance of your account since the email service is fully managed.
Premium Business Email integrates with all solutions at Liquid Web.
High Availability Database Hosting
More and more businesses are moving the assets for their business online, whether it be customer data, transaction history, or another form of sensitive data. It's important to make sure your business has taken extra measures to ensure your hosted assets have replication and failover factored into your hosting infrastructure.
If you are currently piecing together failover or replication through multiple systems, you are at risk of losing chunks of your data if one of your systems fails. By adding a layer of protection to your database, you can rest easy knowing you are covered in the event of a catastrophic data loss situation. Liquid Web offers a suite of database solutions for both ends of the data replication and protection spectrum.
High Availability Database Solutions integrate with other products at Liquid Web.
HIPAA Compliant Hosting
Liquid Web is proud to be ranked as the top HIPAA Compliant Data Center and Solution provider by HostingAdvice.com. Patient safety and compliance standards are of paramount importance in the ever-growing digital age. By pairing your hosted site or app with HITECH Certified HIPAA hosting by Liquid Web, you are ensuring that your patient records and other data are secure.
Off-Server Dedicated Backups
Much like insurance, backups are essential to keeping your business running without disruption. Liquid Web now offers Acronis Cyber Backup for dedicated server plans. Adding Acronis Cyber Backup as your off-server data backup solution allows you to rest easy without the fear of losing a valuable client or business-centric data.
It's best practice to have three copies of your data (one primary and two backups). Store two copies in some type of storage media such as an external hard drive or similar device, and store one copy off-site in the cloud, such as the Liquid Web Cloud or the Acronis Cloud.
For convenience, your data and backup scheduling are easily accessed through an easy-to-use dashboard.
Hosting Infrastructure for Remote Workforces
Many employees across the globe have transitioned to remote work for the foreseeable future. Consider the following:
Are your employees working on personal computers or company-provided units?
How are they accessing the programs, files, and other business information?
Desktop-as-a-Service (DaaS) is a cloud-based virtual desktop environment that provides a single, streamlined computing platform that is accessed by end-users through a network. DaaS is the best way for employees to easily access company information and programs.
In a third-party provider model, the hosting service is typically responsible for data storage, backup, maintenance, security, and upgrades. You also save on repair costs that are typically incurred by a physical device since all of the wear and tear is reduced due to processing now being on the DaaS server.
To further secure your business's remote workforce, you must have VPN access for each remote workstation. With a VPN, you keep the data within the company, protect workers' devices, allow access to internal systems, and reduce liabilities. Liquid Web offers firewalls and VPNs as simple add-ons to your existing hosting infrastructure.
White-Glove Migration Service
Whether you currently have hosted assets with Liquid Web or need to migrate all of your business-critical data to Liquid Web, The Most Helpful Humans in Hosting® put your needs at the center of our process to make your migration simple and painless.
Here is our five-step migration process:
Migration Form and Updates: Information and credential gathering.
Data Move: Migration Team starts the initial data sync to your new server at Liquid Web.
Validation: Log into your site on the destination server to make sure your site is functioning properly.
Testing and Remediation: Now it's on your plate. No one knows your site better than you, so it's important for you to do a review and report any issues to us.
DNS Update: The final step is to update your DNS so that your URL connects to your IP address.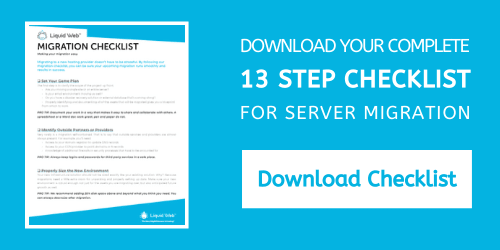 About the Author
Michael Phelps
Want more news and updates like this straight to your inbox?
Keep up to date with the latest Hosting news.