Windows Now Available On Our Revolutionary Smart Servers
Host in a feature rich Windows environment with power & flexibility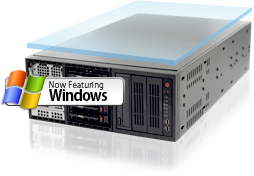 As many discover the powerful features that Windows hosting enables, a number of our users have come forward and suggested adding the platform to our proprietary Smart Servers™. After an extensive re-engineering, we have answered the call and our users now can now choose Windows when deploying the power of a managed dedicated server along with the flexible, cloud-enabled options that Smart Servers™ provide.
Supported Software:
Windows 2008 64-bit
Parallels Plesk
Available Regions:
US West (Arizona)
US Central (MIchigan)

In addition to Windows' robust feature set, our users will also experience the host of other advantages that come standard with Smart Servers™. The combination is sure to launch capabilities previously unimagined from Windows and Smart Servers™ users alike.
Deploy Windows and Linux Servers with the same platform
Advanced Networking & Load Balancing Made Easy
Industry-leading Management Console
Private Networking
Load Balancing
Deploy from Images
Save Images for Future Deployment
Automated Server Deployment on Demand
Multiple Geographic Regions Available
Scale from Smart Server™, to Smart SSD or Smart VPS™ on Demand
Windows Smart Server™ packages are available at competitive prices in both Liquid Web Hosting Regions, US West (Arizona) and US Central (Michigan), and on Smart SSD as well as Smart VPS™ server configurations. We now feature Windows 2008 R2 SP1 images that are ready to order with our Fully Managed, Core Managed and Self Managed options. As we constantly look to innovate and develop, we will continue adding exciting new features to Windows on Smart Server™.

Related Posts: